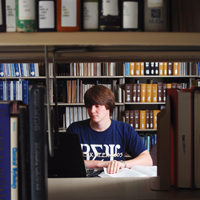 Photo by B.A. Rupert
With 23 members, Beta Sigma Psi was one of Missouri S&T's smaller fraternities when Elliot Gross (pictured at right) joined the chapter in 2005. Just a year earlier, the fraternity had dwindled to a small band of 11 brothers, far below the "70 or 80" members Beta Sig boasted in the early '80s, Gross says.
By 2008, Beta Sig's membership had grown to 46. Based on early recruitment numbers, Gross, who is now president of Beta Sig, expects at least a dozen new members in the fall.