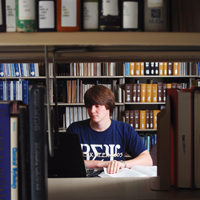 Photo by B.A. Rupert
With 23 members, Beta Sigma Psi was one of Missouri S&T's smaller fraternities when Elliot Gross (pictured at right) joined the chapter in 2005. Just a year earlier, the fraternity had dwindled to a small band of 11 brothers, far below the "70 or 80" members Beta Sig boasted in the early '80s, Gross says.
By 2008, Beta Sig's membership had grown to 46. Based on early recruitment numbers, Gross, who is now president of Beta Sig, expects at least a dozen new members in the fall.

The campus's enrollment growth in recent years may be partially responsible for the fraternity's resurgence. But Gross attributes it more to the fraternity's focus on academics. For the sixth year in a row, Beta Sigma Psi registered the highest grade-point average of Missouri S&T's 21 fraternities. The house's collective GPA of 3.22 for the spring 2008 semester stands well above the average of 2.99 for all Greek organizations on campus. It also beats the campuswide average, for Greeks and non-Greeks alike, of 3.0.
For obvious reasons, Beta Sig's academic success scores points with parents. But it's also "a big selling point" to freshmen, Gross says. "After all," he says, "that's why we're here at Missouri S&T – to get good grades and then move on to good jobs."
Ask the person on the street to describe fraternity life and you'll likely get a different perspective. The uninitiated tend to think of frat guys as more bent on partying than studying, more concerned about beers than careers. Informed largely by pop culture depictions and sensational news reports, the public view of life in Greek-letter societies is an Animal House world of hazing, sex and endless toga parties.
Released 30 years ago, Animal House introduced moviegoers to a satirical view of fraternity life that has turned into the default perspective of many Americans. The movie chronicles the exploits of Delta house, a gang of beer-swilling misfits at fictional Faber College. Operating under the motto "don't get mad, get even," Delta members sneak a horse into the dean's office, take a few liberties with their female guests and crash the homecoming parade in a "deathmobile." In the words of Faber's Dean Wormer, the Deltas are destined to go through life "drunk, fat and stupid."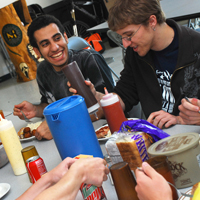 The fraternity's emphasis on academics "is important to me, because we are here to study." — Abdullah Alajaj (Delta Tau Delta). Photo by B.A. Rupert
That Hollywood fable has influenced the views of cultures beyond U.S. borders. Saudi Arabian student Abdullah Alajaj, a freshman petroleum engineering major, didn't need to watch Animal House to draw his own conclusions about Greek life in America. When he first arrived in the United States, he thought of fraternity life as "very bad – all drinking, no studying." Now a fraternity member himself – and as a Muslim, an abstainer from alcohol – Alajaj knows not all fraternities fit the Hollywood stereotype.
Still, that stereotype persists, even on a campus like Missouri S&T, where Revenge of the Nerds might be the more fitting frat house comedy. S&T is "a much different school when it comes to fraternities," says Andrew Friedrichs, a Beta Sig whose 3.95 GPA is tops for his fraternity. "By and large, the people I know who are in fraternities, they take school more seriously than most people typically think," he says.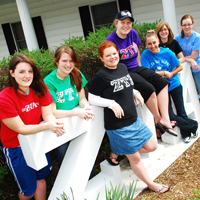 Zeta's "smarty pants" award is a "giant pair of old lady underwear
somebody bought from Wal-Mart." — Erin Hayden (Zeta), third from left. Photo by B.A. Rupert
Maybe so. But plenty of non-Greek students at Missouri S&T buy into the stereotypes, says Erin Hayden, ChE'08, an alumna of Missouri S&T's Zeta Tau Alpha sorority. "They think that all sorority girls are snobby and all fraternity guys are jerks."
Despite the stereotypes, fraternities and sororities at their core remain "values-based organizations" designed to "make men better men and women better women." So says Matt Goodwin, former Greek life advisor at Missouri S&T. National studies and anecdotal evidence support the view that fraternities and sororities help students develop leadership and social skills. Gross – an officer in four other organizations besides his fraternity – nearly personifies that perspective. With the steady interest in Greek life on campus – one in four students here opt to go Greek, compared to about 7 percent nationally – plenty of other Missouri S&T students must be attracted to those ideals.
Or maybe they just want to fit in. That's one of the main reasons students join Greek-letter societies, Goodwin says. (Success is the other motivating factor.) For Alajaj, fitting into American culture as well as university life was paramount. "When I first got here, I didn't know anyone," he says. "It was a strange culture." The native of the oil-rich Persian Gulf city of Qatif asked around campus about different fraternities. He eventually talked to Andrew Perkins, a member of Delta Tau Delta, who invited Alajaj to join the fraternity. Like Beta Sigma Psi, the Delts focus on academics – Alajaj points out that the house's GPA has been in the top five of all fraternities over the past five years – and downplays partying. (Unlike
that more famous Delta House of Hollywood, this Delta House's revelries are limited to Greek Week in the fall and St. Pat's in the spring.) The fraternity's emphasis on academics "is important to me, because we are here to study," he says. "It's important to any international student."
For Hayden, sorority life was an extension of her peer network from high school. As part of an all-female dance team at her large San Antonio, Texas, high school, "I was constantly surrounded by 30 girls," she says. "It was kind of like a mini-sorority. I knew there weren't a lot of girls here, so I wasn't sure how I was going to adapt. … When you go to such a small school and you're also faced with such a high difficulty level (academically), you need a support network or else you're either going to drop out or flunk out."
Now a production supervisor at Frito Lay in Topeka, Kan., Hayden's support network is helping her settle in to life after graduation. Zeta alumnae living in Lawrence, Kan., helped Hayden find her first apartment. Apparently some alumnae take to heart the sorority slogan "Zetas forever."
The Greek support network helps academically as well as socially. One reason for Beta Sigma Psi's academic success has to do with mandatory study hours for freshmen. New initiates are required to study four hours a night, five nights a week. Gross and Friedrichs both say the practice helped them develop a more disciplined approach to studying and managing their time.
For new members, the study requirement "is kind of a kick in the pants," says Friedrichs. Especially if they, like Friedrichs, rarely had to study in high school. But the aerospace engineering junior from Lamar, Mo., says the practice pays dividends. "I'm more motivated to study now than I was in high school," he says. "I played a lot of video games in high school, too, and if I had been in the dorms I may have played a lot of video games instead of studying."
Like Friedrichs, Hayden breezed through high school, graduating with a 4.0. While ZTA didn't impose mandatory study hours when Hayden was active in the chapter, they used other methods to encourage members to do well academically. Zeta's "brag board" in the kitchen is used to spotlight students who earn A's on tests, and the sorority's "smarty pants" award – "this giant pair of old lady underwear somebody bought from Wal-Mart" – is a fun way of recognizing members for their classroom performance, Hayden says.
The Greek support network is there for students who don't make their grades, too. When Alajaj joined Delta Tau Delta last fall, the fraternity's goal was for every member to carry at least a 2.5 GPA. Alajaj fell short. So during the spring semester, the fraternity required him to hit the books for four hours a night during the week. The extra study hours are just another cultural and academic adjustment for Alajaj. But it doesn't bother him, any more than living in a fraternity of non-Muslims does.
Some Saudi students at Missouri S&T question why Alajaj would want to live, dine and study with non-Muslims, especially "people who drink."
"My response to that is, 'Well, you go to class and you sit with people who drink. What is the difference?'" In this Delta House, "We all act as brothers," he says. "That's how life should be."