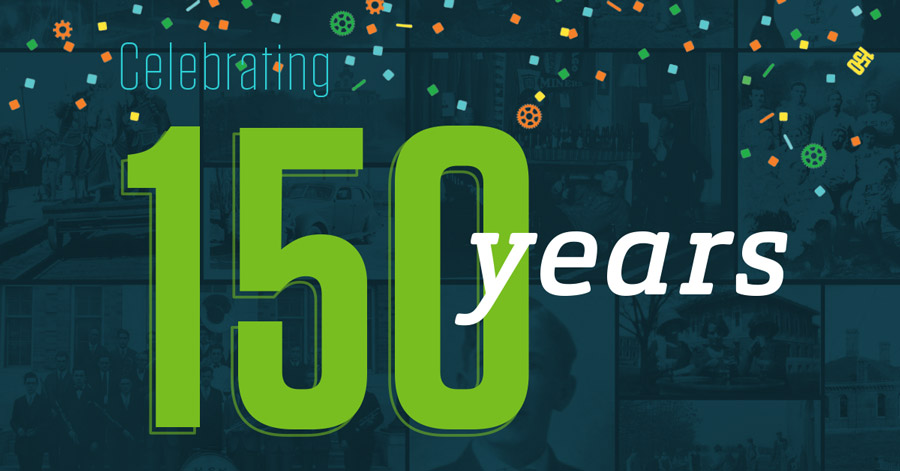 Visit 150.mst.edu to find out everything you need to know about 150th anniversary contests and events, watch videos of past events, learn about our 150-year history, and shop for anniversary gear.
Here's how you can get involved
Miner legacy
Share your story
We want to hear your story! We're asking Miners to share their memories and personal anecdotes. Your submission may be featured on our site with other Miner stories. Visit 150.mst.edu/stories to submit your story or share by phone at 833-MINER150.
Explore our history
Visit 150.mst.edu/history to explore our 150-year timeline of events, view historical photos, and browse through our newly archived digital collection of the Missouri Miner newspaper, S&T alumni magazines, yearbooks, cookbooks and more.
150th events
Visit 150.mst.edu/events to learn more.
Missouri 2021 Bicentennial Alliance Lecture Series
The series "Honoring our past, envisioning the future" celebrates our state's history and future as part of the Missouri 2021 Bicentennial Alliance. All lectures are free to watch on Zoom, and attendees will automatically be entered to win a gift bag.
Rock-it the Robot
Look for Rock-It the Robot, a 9-foot-tall high-tech body puppet sponsored by S&T, at the 2021 Missouri State Fair. Rock-It projects an array of lights and puts on a light show after dark.
Date: Aug. 12–22, 2021
Ages: All
Fee: Free with admission
to the Missouri State Fair
STEM Fest
Celebrate science, technology, engineering and math at this family friendly event at the Student Rec Center. Hands-on activities, interactive demonstrations and other attractions are sure to be a hit with children, teens and families.
Date: Oct. 2, 2021
Ages: All
Fee: Free
Homecoming 2021
Come back to campus to connect with friends, relive favorite traditions and make new memories. Help the university mark its 150th anniversary while the Miner Alumni Association honors its own milestone that's a century in the making.
Date: Oct. 8–9, 2021
Ages: All
Fee: Varies
A "Best Ever" discussion
Join our panelists as they discuss the university's St. Pat's celebration and what it has meant to the campus. The event, co-sponsored by Coterie, will offer an opportunity for audience members to share memories about their own St. Pat's experiences. Watch the panel at 3 p.m. on Zoom or in St. Pat's Ballroom 206C of the
Havener Center.
Date: Oct. 14, 2021
Ages: All
Fee: Free
Gold Rush 5K
Join us for a 5K fun run/walk beginning and ending at the Havener Center on the S&T campus. The event will include a virtual option for those unable to participate in person. All funds raised will support the university's Health and Wellness Fund. Stick around after the race for the Health and Well-being Expo.
Date: Oct. 16, 2021
Entry deadline: Oct. 1, 2021
Ages: All
Fee: $25–$30 (includes T-shirt)
Eduardo Kac: Telepresence, bio art and space poetry
An artist who challenges science, art, ethics and the imagination, Eduardo Kac is internationally recognized for his innovative artwork that focuses on the relationships among and between humans, animals, machines, and different life forms. Join Kac for a live presentation at 4:30 p.m. in S&T's Leach Theatre.
Date: Oct. 21, 2021
Ages: Recommended 14+
Fee: Free
TEDxMissouri S&T 2021
Students, community members and business professionals will come together to share their ideas and life experiences in this 150th anniversary-themed event at Leach Theatre. TEDx is a program of local, self-organized events that bring people together to share a TED-like experience. All presentations are recorded and shared through TEDx media.
Date: Oct. 29, 2021
Ages: Recommended 12+
Fee: TBD
BooPalooza
Bring your little ghouls and goblins to downtown Pine Street in Rolla from 5–7 p.m. for this family friendly trick-or-treating experience. S&T student organizations, the Miner Alumni Association and local businesses will be on hand to ensure a safe event.
Date: Oct. 31, 2021
Ages: All
Fee: Free
Founders Week 2021
This weeklong celebration is an opportunity to bring the S&T family together, welcome visitors to our campus and give back to the community. S&T held its first day of classes on Nov. 6, 1871. Join us as we celebrate Founders Week this November, the same month our university began to take shape 150 years ago.
Enjoy a festive week of activities, games and more. Stick around for some exciting football action on Founders Day as the Miners take on the Lindenwood Lions at 1 p.m. Saturday, Nov. 6.
Date: Nov. 1–6, 2021
Ages: All
Fee: Free
Leonardo da Vinci Cantata
Hear the story of Leonardo da Vinci, an innovator who combined science with the arts during the Renaissance, like you've never heard it before. The performing arts program will debut the musical, written by S&T faculty, at 2 p.m. in
Leach Theatre.
Date: Dec. 5, 2021
Ages:All
Fee: $7 in advance, $10 at the
door. Free for youth 18 and under.
Join the celebration!
Use the official 150th anniversary hashtag on social media #Miner150