Nancy Matteoni: underground engineer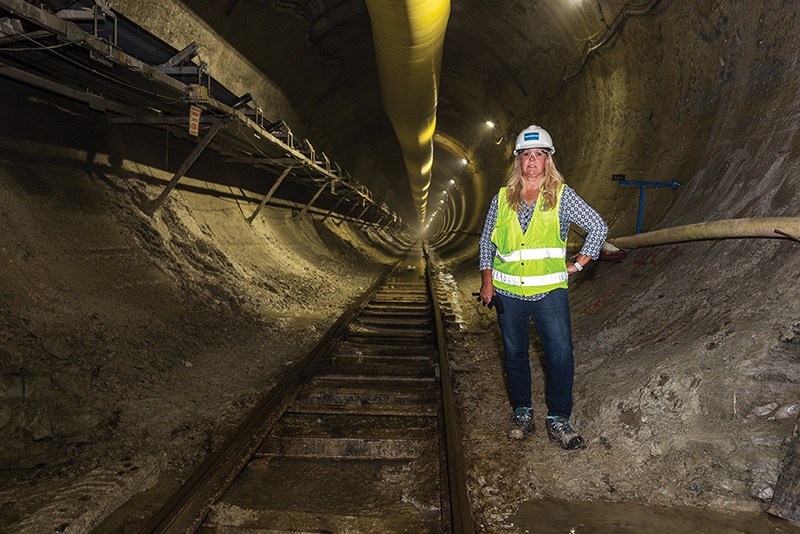 If you have traveled through St. Louis in the past few years, chances are you have driven on or over a construction project that Nancy Matteoni, CE'90, has built.
As a principal engineer and project manager for Parsons, she coordinates large-scale projects in the greater St. Louis area.
Matteoni worked on the U.S. Highway 40/Interstate 64 expansion that was years in the making, and she was a part of the team that added a pedestrian bridge connecting the MetroLink East Riverfront Station to the Eads Bridge — a combined railroad and roadway that spans the Mississippi River.
"The Eads Bridge construction project was fun because I had the opportunity to become an expert in the history of this 145-year-old bridge," says Matteoni. "I love history, so learning about the role it had played, its creation and expansion, and its one-time status as an engineering marvel was great."
Currently, Matteoni is leading a Parsons project for the Metropolitan St. Louis Sewer District known as the Deer Creek Tunnel Project. The 4-mile-long tunnel lies approximately 175 feet underground and will run from Shrewsbury, Mo., to Clayton, Mo. A portion runs underneath the parking lot of the Saint Louis Galleria shopping mall.
"Before 2017, all I had worked on in my career were bridges," says Matteoni. "Now suddenly I am working in an opposite direction, under the ground."
The tunnel, which will have a 19-foot-diameter interior, will collect and temporarily store water during heavy rains, alleviating potential flooding in the cities. The collected water will then be filtered to treatment plants and put back into the flow system. The tunnel will also help control sewage flows to a waste water treatment plant, eliminating an expensive proposed treatment plant expansion.
"I love being on the construction side of things during any project," says Matteoni. "It is different than the design end of the business that I am usually on. Here I can see issues as they arise and make changes to a project on the go — it makes a project much more agile."