Many graduate students work at the university as lecturers or graduate teaching assistants. And, most get time to prepare and have a certain mentality or "game face" when heading into their classrooms. For Mariah Covington, teaching and learning sometimes blur together.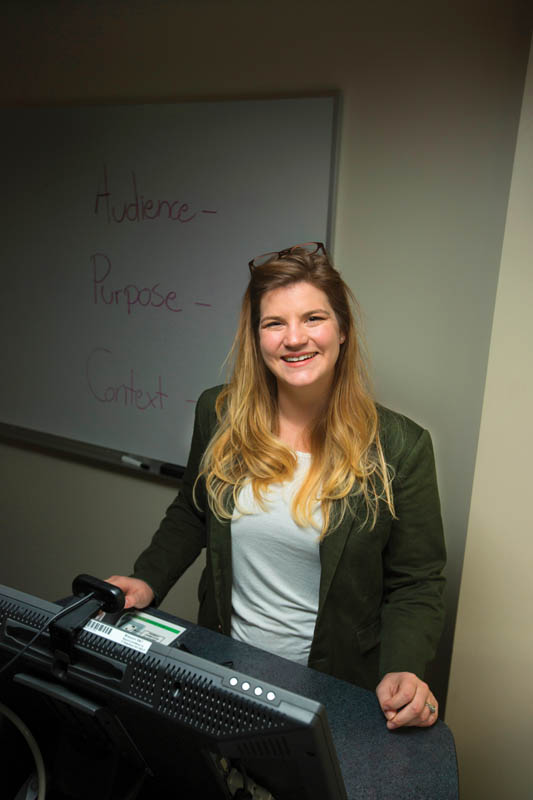 "I teach a morning class and go straight from there to my classes where I am a student, so it is always like a splash of cold water," says Covington, a graduate student in technical communication. "Splitting time between teaching and being taught is sometimes a challenge, and a 10-minute break is not really enough some days."
She doesn't mind the contrast between the two, though. She spends her office hours talking to students or meeting with faculty about departmental information rather than studying.
"It seems like a cliché, but seeing the students I teach change and improve is such a big motivator to put up with any difficulties and keep doing what I do," says Covington. "Though it is strange to be called 'Ms. Covington' by students who are only a year or two younger than I am!"
Covington is not writing a traditional research thesis for her master's, but she continues hands-on learning as a research assistant on campus. She helps Katie Grantham, AE'01, MS AE'03, PhD ME'05, associate professor of engineering management and systems engineering, to document information and help migrate data as the campus changes learning management systems.
Covington hopes her degree and current documentation work will prepare her for future employment in whatever country or situation she ends up in.
"My husband is a part of the U.S. Army at Fort Leonard Wood, Mo., but he could be relocated at any time, so my hope is this degree will give me a lot of flexibility wherever we end up. But we will hopefully stay in the Rolla area for a few more years," Covington says. "My undergraduate degree is in biochemistry, but by earning a writing-intensive degree, I hope to find a career in science documentation or writing."