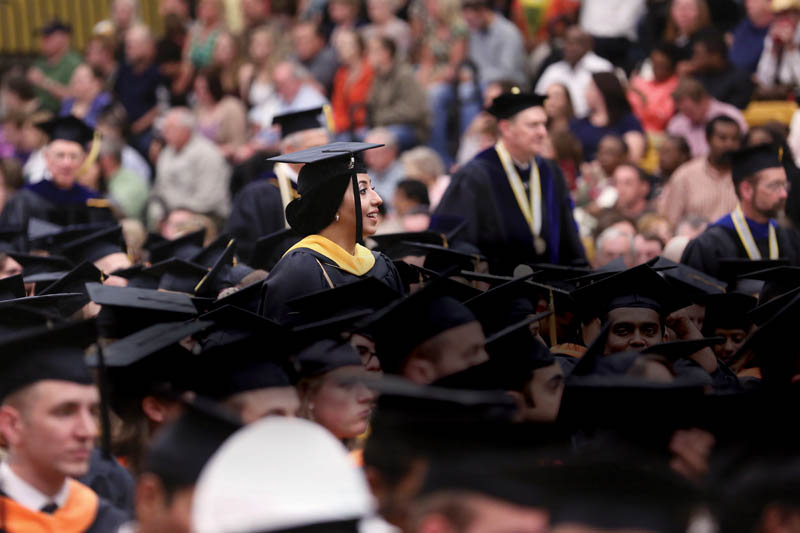 Few would dispute that Missouri S&T's reputation for providing an outstanding undergraduate education is strong.
Since our earliest days, newly minted graduates left Rolla ready for the world of work and prepared to succeed in their careers and in life.
Somewhat overshadowed by that reputation, however, is the role of graduate education.
Students have been earning advanced degrees from our campus for well over a century. The first of them was Victor Hugo Gottschalk, who earned a master of science degree in general science in 1900 and went on to teach chemistry here. And more than 70 years ago — at the height of World War II — William Smothers of Poplar Bluff, Mo., became the first student to obtain a doctoral degree, earning a Ph.D. in ceramic engineering in 1944.
Through the years, legions of Miners have followed in these trailblazers' footsteps — and in growing numbers. The 1950s and 1960s saw a national emphasis in graduate education as campuses like the Missouri School of Mines grew into full-fledged research universities in need of bright students to work alongside faculty. As of last fall, 1,929 Missouri S&T students were pursuing graduate degrees — on campus and online. That number includes 624 Ph.D. students, an area of growing importance as higher education and research are seen as key elements for future innovation and economic success.
The reasons students choose S&T for advanced degrees are many and varied.
Many prefer this campus to larger research universities because of our close-knit environment. Students have unfettered access to their professors, and that access comes without sacrificing opportunities to conduct meaningful research on important national and global subjects, such as cybersecurity, environmental remediation and biomaterials to help save human lives.
Others come here to study in specialized disciplines available only at S&T or a few other institutions. Our Ph.D. program in explosives engineering is the only one in the world, and the master's and Ph.D. degrees in systems engineering are offered by only a handful of other universities. S&T was the first to offer a Ph.D. in that discipline entirely online.
Still other graduate students continue their education at S&T because they know an advanced degree will lead to greater opportunities in their careers. Many high-tech or specialized jobs in the private sector, government and education require employees to hold a master's degree — or in some cases, even a Ph.D.
Research-minded students come to work with faculty who are among the best in their fields. Some of those students also hope to become professors or researchers themselves one day, and Missouri S&T, in partnership with the U.S. Department of Education, is focused on helping create a new generation of researchers through the Graduate Assistance in Areas of National Need (GAANN) program.
Even students seeking degrees in less technical areas benefit from studying in an environment where science and engineering disciplines predominate. Grad students in our technical communication or MBA programs obtain a high degree of technical literacy due to S&T's emphasis on science and engineering.
And that's true even if they're not on campus. Today's master's or Ph.D. students aren't always hitting the books in Rolla. Nearly 40 percent of our graduate students — 761 out of 1,929 — are working on their degrees through S&T's distance education program.
Given the growing interest in and demand for graduate education, it's safe to say that Missouri S&T's reputation for academic excellence will continue to grow and broaden. No doubt Professor Gottschalk would be proud.