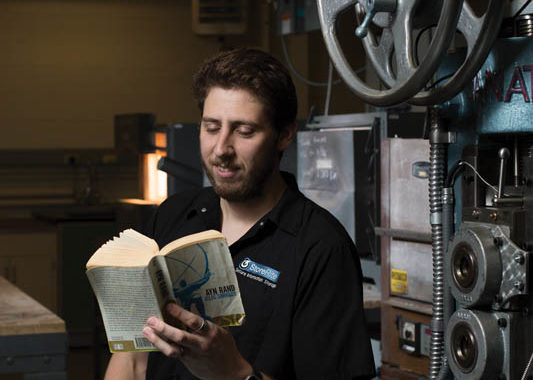 Daniel Field was driving a truck when inspiration struck — and that took him from Southern California to Missouri S&T.
Field, MetE'13, is now a doctoral student in metallurgical engineering working through the Graduate Assistance in Areas of National Need (GAANN) program.
But back in the late 2000s, he and a partner drove a mobile document shredding truck from Santa Barbara to Los Angeles to Pasadena. They shredded documents at biopharmaceutical company Amgen, and they shredded Spider-Man 3 props under the watchful eye of Paramount Studios security. In between stops, Field read Ayn Rand's Atlas Shrugged, but it wasn't her objectivism philosophy that brought him to the Missouri Ozarks, it was a character the author created.
"Hank Rearden sparked an interest in metallurgy," Field says.
In the book, Rearden owns the most important steel company in America and makes Rearden Metal, an alloy that's stronger than steel. As part of his graduate studies, Field is working on making high-strength steel lighter and stronger to improve automobile fuel economy and safety, both of which are a concern when you're driving on California's nightmare highways.
Field worked four years for ShredRite, a company owned by his father-in-law, and briefly for its subsidiary, StoreRite. During the day his wife, Melissa, went to college to become a teacher, and when she started working, Field completed four semesters of night classes at Ventura County Community College.
And then he started looking at his full-time college options.
"I chose Missouri S&T because when I called the various other schools that offered a metallurgy degree, I got the most direct help from the S&T secretarial staff in the materials science and engineering department," he says.
He loaded up his growing family — the couple now has three children — and moved to Rolla in 2011.
After earning his undergraduate degree, Field applied for the GAANN fellowship that provides more than $30,000 a year in assistance from the U.S. Department of Education and Missouri S&T. The program is aimed at training the next generation of researchers or professors.
Before he fulfills the GAANN program's goals, he plans to work in the steel industry to gain practical experience.
"I respect those who went out and worked in the industry to gain that practical knowledge," he says.