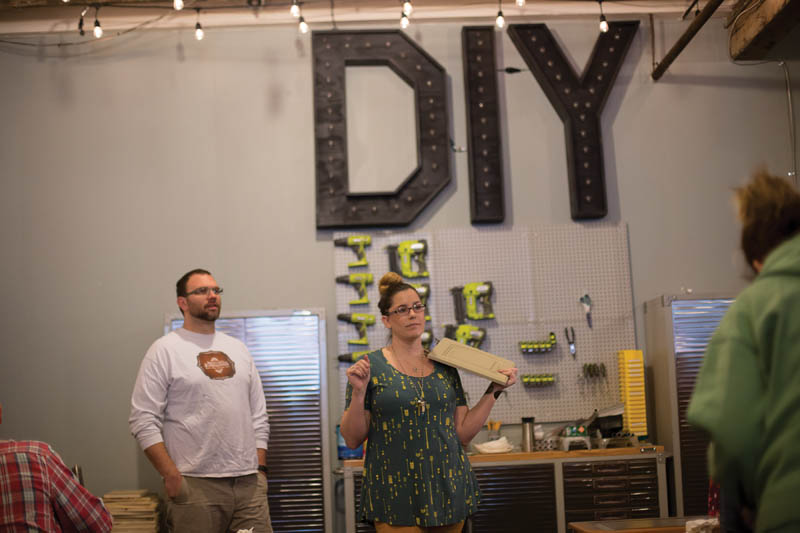 As Missouri S&T undergraduates a decade ago, Brandt, CE'07, and Nicole, EMgt'07, MS SysE'10, Genz never envisioned careers as small-business owners flourishing amid the 21st century version of the arts and crafts movement.
But after earning engineering degrees in Rolla, the St. Louis couple is now carving out an unexpected expertise in the home design market as the creative and managerial forces behind Rescued Furnishings and Designs. Their business began as a basement hobby and now consists of a workshop, new retail showroom and thriving do-it-yourself space occupying 6,600 square feet in a historic building near Lafayette Square.
What began as a diversion from their full-time engineering jobs is now a no-two-days-are-the-same gig that also pays the bills. Nicole, a former systems engineer at Boeing and logistics manager at Anheuser-Busch, made the career switch on Labor Day, 2014. Brandt, a civil engineer who focused on municipal public works and infrastructure as a project manager with CDG Engineers, followed a year later.
"We were doing this on the side for fun," says Nicole. "And slowly it started becoming that challenge I was looking for."
Their paths to S&T were distinct. Brandt grew up in Warrenton, Mo., a town of 8,000 located 60 miles west of St. Louis. Nicole, whose father is also an S&T graduate, hails from the southern California tourist town of Temecula, sandwiched between Los Angeles and San Diego.
"My goal my whole life was to never be an engineer and never go to Rolla," she says. "I grew up with a dad who was an engineer (Steven Fischer, ME'80), and we fought all the time because we're very alike and hard-headed. I just didn't want to be like him.
"So then I went to Rolla and became an engineer," she says. "I am my father's daughter."
Despite the change in occupational direction when each had barely turned 30, both are quick to attribute the burgeoning success of Rescued Furnishings and Designs to their engineering background.
"You learn how to learn," says Brandt, who maintains his professional engineering license. "That's what an engineering degree did for me — it just set me up for life."
The fix-it fixation began when the couple, who married in 2008, salvaged antique and neglected furniture in their own home, a habit cultivated via Brandt's antiques-shopping parents. The venture moved from their basement to a 500-square-foot rented space in someone else's warehouse before the September 2014 move to their current location. The retail showroom and DIY center was unveiled in October 2016, tripling their space. And the initial focus on furniture restoration has broadened to include kitchen cabinet painting, carpentry, and home and kitchen designs.
"Being engineers has made us crazy about quality and durability and doing things right," says Nicole, now a regular guest on the Show-Me St. Louis morning television show on KSDK-TV. "This is where the nerdy engineers in us come out. We were always looking to make things better. I'd read spec sheets, he would draw plans. People like that attention to detail."
The growth of their business has allowed the Genzes to hire two other full-time employees as well as two part-timers. They hope to bring in
$1 million in sales by 2018, a growth rate that could easily land Rescued Furnishings as a case study in the engineering management textbooks Nicole pored over not that long ago.
Their advice to other young graduates?
"Getting your degree sets you up for so many other things," she says. "So even if you venture off your path and go into a different field than engineering, you now have that background to carry on with."