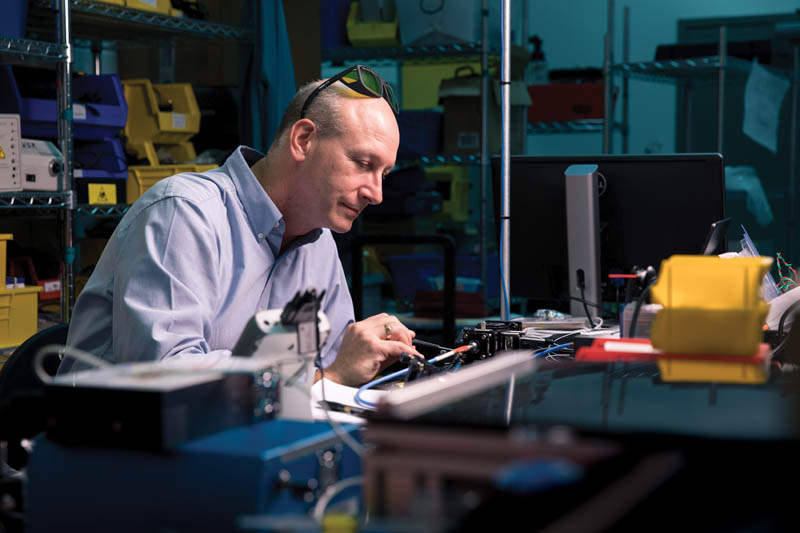 Working to rid the world of dangerous bacterial infections and developing less painful ways to take and test blood — it's all in a day's research for Steve Frey.
Frey, MS Phys'86, is vice president of engineering and technology for Orlando-based Ocean Optics, which invented the world's first miniature spectrometer.
An optical spectrometer measures properties of light over a specific portion of the electromagnetic spectrum. It is typically used in spectroscopic analysis to identify materials.
Frey is especially excited about two new spectrometer applications under development. One is a rapid-result test for E. coli in food. The other is a painless way to measure blood glucose levels.
The most common way to test blood glucose is by pricking a finger with a lancet to draw blood for a test strip. People with type 1, or juvenile diabetes, often test their blood glucose between four and eight times a day.
"Imagine how valuable (a non-prick test) would be," says Frey, who envisions a handheld device that would replace the lancet with a light source and spectrometer. The device would have to be positioned in the same spot on the individual for every test to get consistent readings, he says.
At the touch of a button, test results could be sent to a smart phone that records the patient's reading in a cloud database that is accessible by a primary care physician. The doctor can download reports to monitor the readings and recommend adjustments.
Frey and his researchers are also developing a way to test food for E. coli on the fly. The process could help pinpoint origins of food contamination.
"Ask any chain restaurant how much they'd pay you for that test," says Frey. "If you had that test, it would improve the world food supply. That's the thing that really excites me."
The company's spectrometers can already test food for characteristics like freshness, sweetness, acidity and firmness.
Ocean Optics recently created a handheld device to allow one of the largest retailers in the country to test the freshness of produce coming into its warehouses and on its store shelves, thus reducing food waste and improving produce freshness and quality.