Changing the game, one hat at a time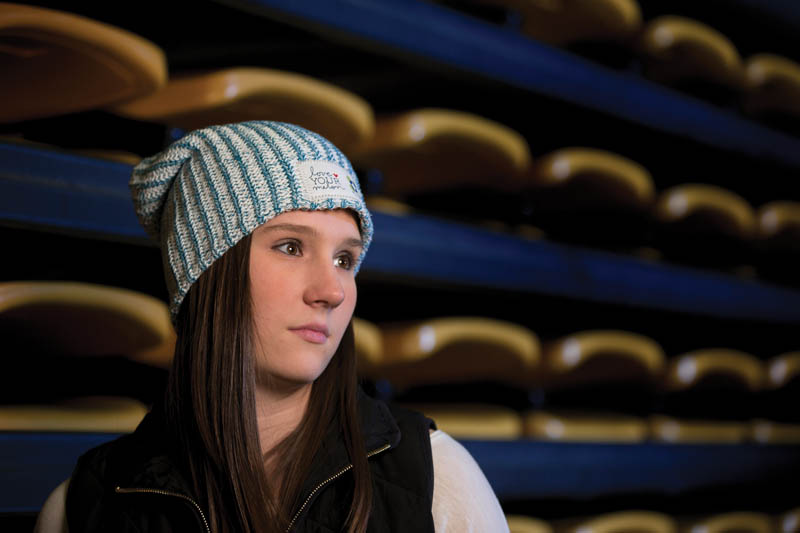 "If one week of feeling horrible can give someone else even one enjoyable day out of the hospital, I would do it as often as possible."
That was Ashley Allegri's mentality when she donated for "Be The Match," a worldwide bone marrow transplantation network that provides support and resources for patients and donors. In September, Allegri spent five hours in a hospital bed donating bone marrow to an anonymous recipient.
"I joined the registry a couple of years ago after my dad, who had previously joined it, matched with someone and was asked to donate," says Allegri. "I thought it was amazing to be able to help someone on such a deep level. I never expected to be a match since the chance is so slim, but I am glad I was called on to help."
Allegri, a senior in engineering management from Leawood, Kan., had a one-in-430 chance to match with a person battling cancer or other immune diseases. For patient confidentiality reasons, donors may never know who they donate to or if the recipient makes a full recovery.
It took Allegri a little over a week to fully recover from the procedure, but it didn't stop her from competing this season as a member of the Lady Miners volleyball team. In fact, a month after the procedure she set a new school record for serving 12 straight points, breaking the previous record of 10 that stood since 2008.
When told she set a new school record, Allegri was surprised.
"I never read our team news or look at stats," she says. "I know when I've had a good game or not, and tend to not worry about a particular number or percentage."
Besides being a bone marrow donor, Allegri leads efforts on campus for "Love Your Melon," an apparel brand that works to provide a hat to every child battling cancer in the United States. Missouri S&T's Love Your Melon group promotes sales of hand-knit winter hats which, when purchased with the Missouri S&T school code, provide funding for the S&T group to visit sick children in the area to give them hats and a day of entertainment. The S&T group hopes to become a recognized student organization within the next few years.
"I just always liked to help people," Allegri says. "It is easy to see the need to help in the fight against cancer, so you need to help make the changes you hope to see."