Chancellor Cheryl B. Schrader: a legacy of progress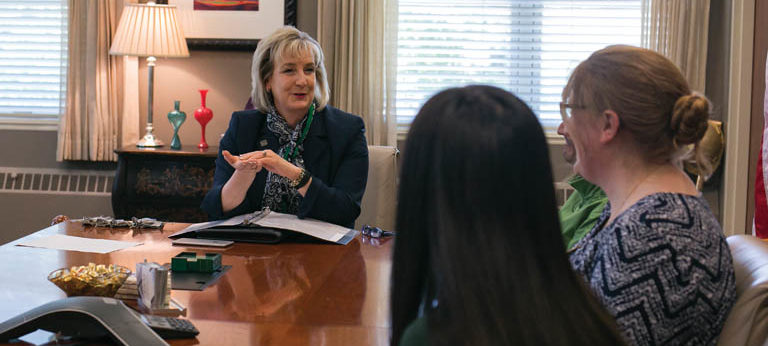 After five years at the helm of Missouri S&T, Chancellor Cheryl B. Schrader will step into a new leadership role on July 1, when she becomes president of Wright State University in Fairborn, Ohio.
"It has been a tremendous privilege to lead Missouri S&T over the past five years, and I'm very proud of all we have accomplished to position our institution as a top return on investment among the nation's research universities," says Schrader, who joined Missouri S&T as chancellor in April 2012. She was the 21st leader of S&T and the first woman to lead the campus. She also will be the first woman to hold the presidency of Wright State.
Wright State announced Schrader's appointment in early March. University of Missouri System President Mun Choi congratulated Schrader for her contributions to the entire UM System. "She has significantly advanced our mission for excellence in research, education, outreach and economic development," Choi said. "Missouri S&T is more vital and resilient as a result of her leadership and the many contributions of the faculty and staff."
Prior to joining Missouri S&T, Schrader served as associate vice president for strategic research initiatives at Boise State University. She also served as dean of the College of Engineering at Boise State from 2003 to 2011 and previously held academic positions at Rice University and the University of Texas at San Antonio.
Major Accomplishments
At Missouri S&T, Schrader emphasized the importance of investing in new faculty positions to meet the growing demand for S&T's degree programs and worked to bolster research and graduate programs. In 2013, she announced a plan to add 100 new faculty positions by 2020. The campus has since added 42 new positions and is recruiting 18 additional faculty toward the goal of 100.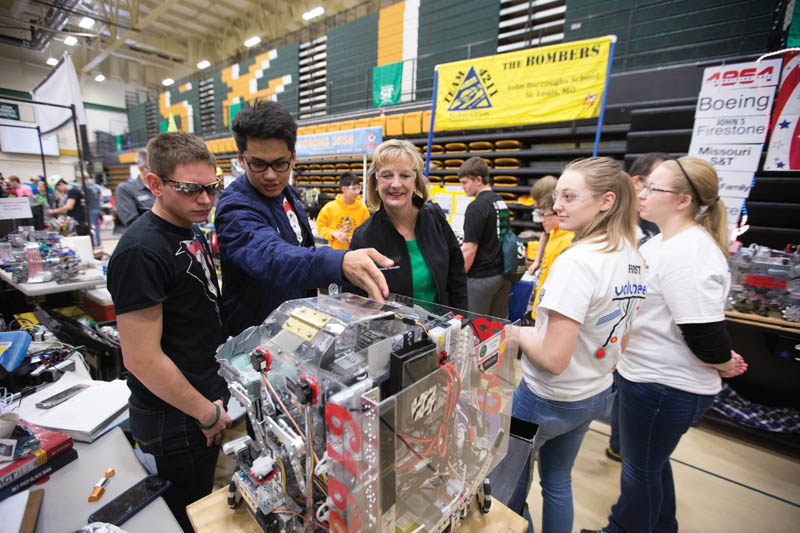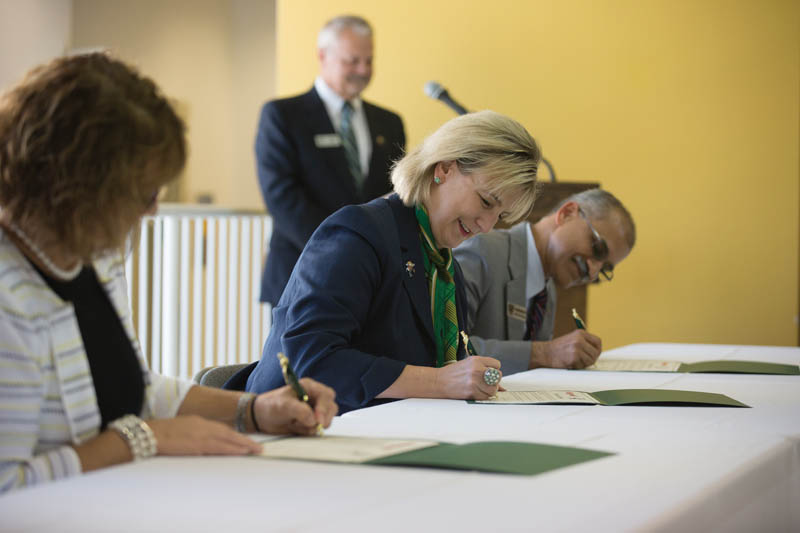 To strengthen graduate education and research, in 2014 she secured $3 million in additional state funding to support doctoral and master's student recruitment and development. By 2016, nearly 350 graduate students held nationally competitive compensation packages and 25 held premier packages.
Under her direction, the university established four "signature" areas to strengthen research and education. The four signature areas are Advanced Manufacturing, Advanced Materials for Sustainable Infrastructure, Enabling Materials for Extreme Environments, and Smart Living.
Known for saying that she was "committed to always having a crane on campus" as a symbol of progress, Schrader oversaw the completion of several capital improvement projects, including the geothermal energy system, the October 2014 dedication of James E. Bertelsmeyer Hall, the March 2015 dedication of Hasselmann Alumni House and the October 2016 dedication of the Kennedy Experimental Mine Building. During her tenure, Missouri S&T's outdoor athletic and intramural fields were converted to artificial turf through financing made available by the geothermal project, student fees and donors. And Schrader's interest in campus beautification was realized through the addition of the University Promenade connecting the Havener Center to Curtis Laws Wilson Library.
During a time of tight state budgets, Schrader worked with Missouri legislators and former Missouri Gov. Jay Nixon to secure funding to renovate Schrenk Hall. S&T received $12 million in state funds for the second phase of a multiphase renovation of the building and secured $6 million in UM System and campus funds for the project.
Many of the accomplishments during Schrader's tenure were the result of a comprehensive strategic planning effort involving thousands of stakeholders. The plan, called "Rising to the Challenge: Missouri S&T's Strategy for Success," focuses on providing a top return on investment to Missouri S&T's key customers.