Patrick Owen: Engineering adventure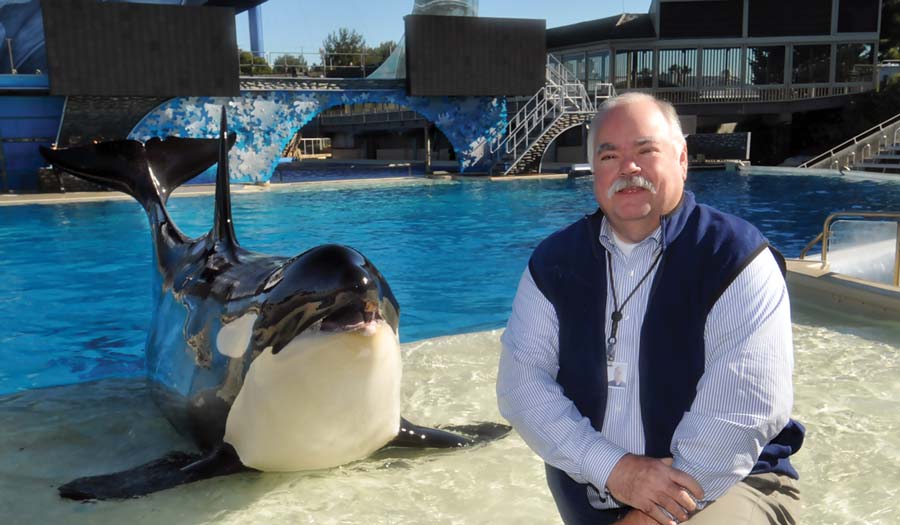 Patrick Owen, CE'77, has spent the better part of the last 15 years in a theme park. It sounds like he's competing for an entry in the Guinness Book of World Records, but he's not. It's all part of his job. Owen is vice president of design and engineering at SeaWorld in San Diego.
Over the years, Owen's projects have ranged from designing food service and merchandise facilities to utilities and infrastructure, as well as helping to develop major attractions like the Journey to Atlantis Coaster, Pirates 4-D Theater, Shipwreck Rapids and Shamu Backstage. His favorites are the attractions that involve animals – specifically Wild Arctic.
"It's an immersive exhibit that includes a simulated helicopter experience that takes our guests to an Arctic exploration base complete with polar bear, walrus and beluga whale habitats where the guests can observe the animals in natural environments," Owen explains.
He even helped design some of those environments. And it wasn't always easy, he says.
"Participating in the development of a 7-million-gallon killer whale pool, show sets for sea lions and otters, and natural habitats for polar bears all have their challenges," Owen says. "But the exhibits also give me a great sense of satisfaction to walk through them and see the thrill and excitement of our guests."
Occasionally, Owen himself is one of those excited guests.
"No matter how long I've been here, I still get chills when I go see the Shamu show," Owen says. "I think it's the size, power, majesty and intelligence of the killer whale.
"Killer whales are both curious and playful animals," Owen says. "When we've had construction projects adjacent to their habitat, they become very interested in what we're doing. They've even been known to launch a wave of water on an unsuspecting construction worker. Afterward, they almost look like they're laughing."
Owen and his wife, Rosa, live in the San Diego suburb of Spring Valley, Calif. They have two daughters, Jessica, ME'07, and Amanda, who went to SeaWorld every chance they got as kids – then worked there when they were older.
"My girls love SeaWorld," Owen says. "It's the largest employer of youth in San Diego and provides a safe and fun place for them to work."