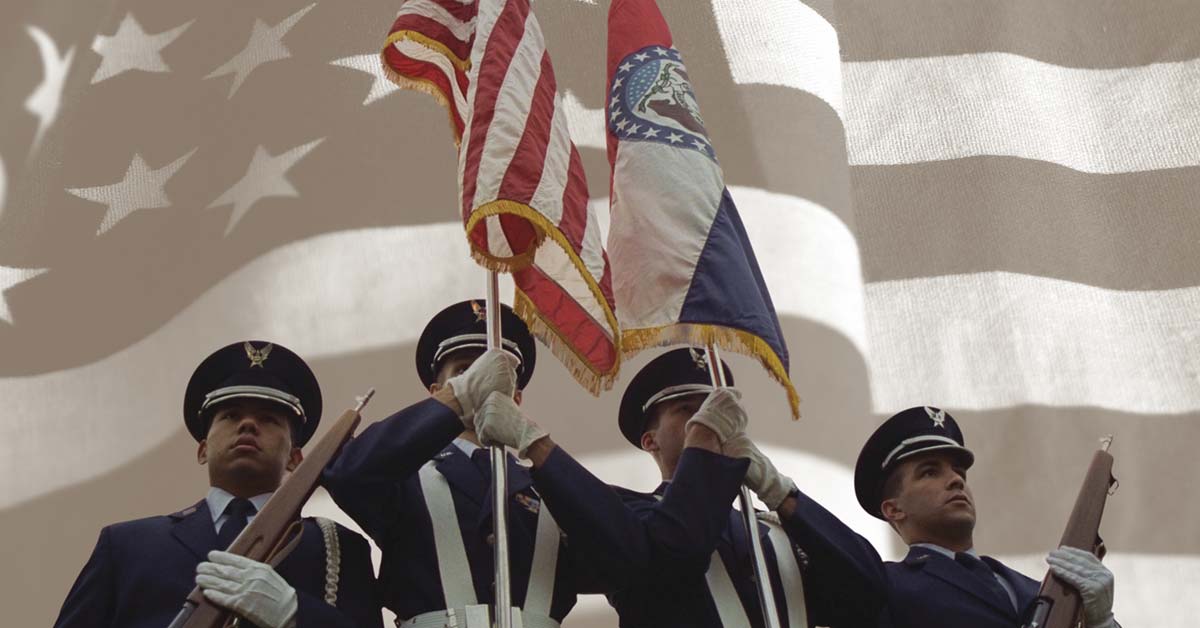 The flagpole might be in a different place, and the flag has a few more stars, but Old Glory is raised and lowered by ROTC cadets on the Missouri S&T campus today just as it was back in 1873, when MSM's first company of cadets was formed.
As they march in formation, the echoing footsteps from the cadets' polished boots remind all who hear them of the connections that tie Missouri S&T to the military.
With two active ROTC units, degree programs for troops stationed at nearby Fort Leonard Wood, dozens of military research projects and a handful of graduates who have risen to the highest military ranks, Missouri S&T's ties to the armed forces are rock-solid and well-documented. But the campus's military connections, which extend back to its founding in 1870, weren't always so distinguished.
Founded just six years after the end of the Civil War, MSM – like other land grant institutions of its day – was required to teach "military tactics" alongside engineering, science and other coursework. This was due to "the lack of trained military leadership in the north, particularly," according to two Dartmouth University scholars, Gene M. Lyons and John W. Masland, who wrote about the origins of the Reserve Officers Training Corps (ROTC) in a 1959 Journal of Military Affairs article.
By early 1873, the campus had mustered its first company of cadets. In April of that year, two of those cadets had a disagreement they settled the old-fashioned way: with a duel that sent one to the hospital and the other into custody.
Lawrence O. Christensen and Jack B. Ridley, Curators' Teaching Professors emeritus of history, recount the incident in their official history of the university. "Company rules required cadets to wear gloves when entering the armory or handling weapons," they wrote. "When John McCown of West Plains walked into the armory and took possession of his weapon without gloves on, Sgt. Peter Blow … ordered him to leave. The disagreement led to a duel and McCown shot Blow in the cheek and throat."
No word from the professors on what became of McCown after his arrest, but they do report that Blow returned to campus a few weeks after the incident. Later that spring, the young cadet was playing baseball one day when he "hit a triple, ran to third, began coughing, and spit out the bullet that had lodged in his throat."
In the years that followed there were fewer duels, but the military continued to have an important connection to campus.
The GI Bill of Rights, signed into law by President Franklin D. Roosevelt in 1944, caused a huge influx of former soldiers into the ranks of MSM's enrollment. Of the record 2,565 students enrolled in 1946, 1,800 were veterans.
The GI Bill put money directly into veterans' hands for their own use and made it possible for many of them to afford a college education. "The GI Bill was a godsend for me, as I received 100 percent of my education through it," says Charles R. "Chuck" Remington, ME'49, MS ME'50, professor emeritus of mechanical engineering who retired from Missouri S&T in 1989. Remington was among the first enrollees from the GI Bill.
The swell of students the GI Bill brought to campus overflowed classrooms, laboratories and student housing. The campus responded by transforming the physical plant and class schedule. Fourteen Army barracks were transported from Fort Leonard Wood and used for student housing, temporary classrooms and warehouses. The last of these "temporary" buildings was razed in 1994.
These days, Missouri S&T's connections with the military are stronger than ever, thanks in part to the Army's consolidation of military bases in the 1980s and 1990s. After the Army located its engineering and chemical schools at nearby Fort Leonard Wood, some 30 miles southwest of campus, the university began offering master's degrees in engineering management, civil engineering and geological engineering to officers stationed there.
The campus also collaborates on a number of research projects with the Army Engineering School and other outfits at the fort. Research on explosives engineering and homeland security are among the projects being conducted directly at Fort Leonard Wood. In addition, Missouri S&T researchers in recent years have worked with the Army's Chemical School at Fort Leonard Wood to develop new tools for future warfare, including sensors for detecting biological and chemical agents.
Several Missouri S&T researchers work closely with the Army, Air Force and Navy. The work ranges from humanitarian efforts, such as the development of methods to defuse improvised explosive devices (IEDs) and to decommission land mines and nuclear warheads, to modern warfare, such as research to develop unmanned aerial vehicles and terrestrial robots. Work by Missouri S&T researchers and the Air Force to develop chrome-free coatings earned the university and the Air Force a share of the 2007 R&D 100 Award from R&D Magazine. Also, one of the university's largest research centers, the Center for Aerospace Manufacturing Technologies, is a partnership among Missouri S&T, Boeing and the Air Force. The work under way in the CAMT could result in future commercial and military applications.
With its proximity to Fort Leonard Wood, emphasis on technology and historic military roots as a land-grant university, it would be "shocking" if we didn't have strong ties to the military, says military historian John C. McManus, associate professor of history at Missouri S&T.
Many graduates have enjoyed success in the military. In the stories that follow, you'll meet a few alumni who are strengthening that bond between Missouri S&T and the armed forces.