Linda (Desilet) Smith, AE'88, was interested in planes back in high school. Her uncle, an Air Force pilot, impressed her, and she was thrilled by the aerobatics of the Thunderbirds air demonstration squadron.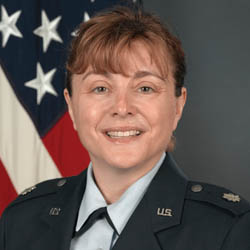 But her real interest wasn't in flying aircraft. She wanted to design them.
She came to Rolla on an Air Force ROTC scholarship, taking full advantage of her time at Missouri S&T.
She participated in as many intramural sports as she could.
She joined Kappa Delta sorority and the Gold Miner Dance Team.
"It was an interesting mix," says Smith. "After class I'd return to the sorority in my ROTC uniform, get my pompoms, and rush to Gold Miner practice." Smith found aerospace engineering to be both challenging and fun. The knowledge she gained at Missouri S&T led to a successful 20-year career with the Air Force.

She fondly remembers her first assignment. "Everything was new and exciting," says Smith of her position as a joint special projects officer for the advanced medium-range air-to-air missile (AMRAAM) out of Eglin Air Force Base in Florida. She was a lead engineer for lethality and flight tests. "I led a team of 22 people that developed vulnerability models used to assess the probability of kill and miss distance for future AMRAAM threats." She also conducted wind tunnel testing of compressed carriage design and flight simulations.
For the last eight years, Smith has worked out of the office of the secretary of defense in Washington, D.C., facilitating the international export of aircraft. Now a lieutenant colonel, she provides disclosures and technical reviews of aircraft and electronics for export licenses and foreign military sales.
"Almost daily my technical background helps in the decision of what we export, and what our capabilities are," says Smith. "I'm also comfortable with contractors' aircraft engines and on their manufacturing floors. My education helps me ask the right questions."
Her position includes management of international fighter competitions, currently those held in India and Japan. "My department's job is to maintain a level playing field between both the Air Force and Navy when both services have an aircraft in the competition." This involves reviewing proposals, attending briefings, answering questions and planning for field trials.
In 1995, Smith earned a master's degree from the Air Force Institute of Technology. "Rolla prepared me to compete with the best Air Force officers there," she says.
"Almost daily my technical background helps in the decision of what we export, and what our capabilities are."
Smith is ready to retire next year, though. She says the travel was fun when she was younger, but it has been hard on her family, especially her two children, ages 8 and 11. After retirement she's contemplating a civilian job as a contractor. Smith says she would encourage young women contemplating their futures to consider aerospace engineering because it's fun and rewarding. And she would advise them to join the Air Force.