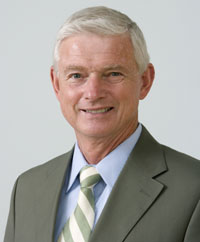 Eleven months ago, John F. (Jack) Carney III was wearing his trademark Boston Red Sox cap around the campus of Worcester Polytechnic Institute in Worcester, Mass., with more pride than usual. And that's saying something, because Carney, a lifelong Red Sox fan who grew up idolizing Ted Williams, is known for wearing his passion for Boston baseball on his sleeve as well as his head.
"There is no more rabid Red Sox fan than Jack Carney," says John Heyl, WPI's vice president for university advancement, who worked alongside Carney during his eight-and-a-half years as the school's provost and vice president for academic affairs.
When Carney wasn't wearing the cap, it was probably on his desk – beneath a framed photo of Ted Williams in mid-swing – or in the possession of Heyl, who had a penchant for swiping the hat as a practical joke. Otherwise, "He wore it every day," says Debbie Graves, a WPI executive assistant who worked with Carney in the provost's office. "It could be 5 below zero and his ears would be red and freezing, but he'd have his cap on. Everyone on campus, from the groundskeepers on up, knew him because of his Red Sox cap. Everyone could relate to him."
As baseball fans know (and St. Louis Cardinals and New York Yankees followers lament), Carney's favorite team became world champions last year. Down 3-0 in the American League playoffs, Boston rallied to beat the Yankees in four straight nail-biters to clinch the AL Pennant. The Red Sox then swept the Cardinals in four games to win their first World Series in 86 years.
These days, Carney is more likely to be wearing a Miners cap – if not St. Louis Cardinals red. As UMR's new chancellor, the Massachusetts native who once dreamed of playing center field in the majors finds himself deep in the heart of Cardinals country.
"The irony of Jack going to Missouri after the World Series," says Kent J. Rissmiller, an associate professor of social science and policy studies at WPI, before trailing off mid-sentence, pondering the incongruity of Carney's move from a baseball fan's perspective.
Even before UM President Elson S. Floyd announced last March that Carney would be UMR's next chancellor, Carney was ready for the move. As one of three finalists to succeed Gary Thomas as chancellor, Carney visited Missouri last February and March to meet with a 20-member search committee and tour campus. During his visit, he was given a Cardinals cap, which he quickly donned and continued to wear, even in public, back in Massachusetts. "So far," he said, prior to the start of the season, "I haven't been assaulted."
Moving to a new team
Having finally witnessed the Red Sox's finest hour, Carney is now playing a more important game: the one he hopes will take UMR to a new level of greatness. And like any Major League skipper focused on winning a championship, Carney has his sights set on building on his team's success to accomplish more. With the right players in place, Carney says, UMR can win a position among the world's great technological universities.
Carney believes firmly in taking a team approach to running a university. It's a philosophy he's carried with him throughout his academic career. "I try to have very good people in appropriate positions and let them do their jobs, and then hold them responsible," he says. "A university depends on a collegial spirit for it to work." A winning team in academia, Carney believes, should consist of excellent players – students, faculty, staff and other partners, including alumni. "Alumni are very important to a health of the university. It's critical to keep alumni involved."
As a lifelong Red Sox fan, Carney also understands patience – almost as much as a long-suffering Cubs fan might. So expect Carney to take a long view toward planning and problem solving. Don't expect Carney to institute change for change's sake during his early months at the helm.
A 'quiet leader'
Those who worked closely with Carney during his tenure at WPI talk about the former provost in glowing, almost reverential terms. He's described as "quietly confident," a "consensus builder," "balanced" in terms of his family and professional lives, and a "quiet leader" who is "honest and direct" yet sensitive to the feelings of others.
Such accolades are rare for provosts, who seldom are ranked among the most beloved administrators on a campus, Rissmiller points out. While university presidents or chancellors spend much of their time casting a vision, handling public relations and raising funds, provosts typically handle the gritty and often unpleasant tasks, such as budget planning, faculty and academic issues, and staffing. Yet during Carney's tenure as provost of WPI, a private technological university with an academic portfolio similar to UMR, he managed to build rapport with students, faculty and staff, even while dealing with some ugly budget and personnel issues. When he departed the campus last December, "He left here with a tremendous outpouring of support," Rissmiller says.
"He didn't bring any arrogance to the job," says Rissmiller, who as chair of WPI's faculty committee on governance worked closely with Carney on campus issues. Rissmiller describes the committee as "sort of the clearinghouse for faculty concerns," and "not always a friendly place for the provost."
Yet Carney didn't back off from the problems. "He had the ability to make a determination that might not be what others wanted to hear and yet be so caring that he didn't offend," says Doris Horgan, one of Carney's staff assistants at WPI.
Adds Rissmiller: "He's very adept at listening to people and understanding the institution, understanding the various needs, the competing needs of the programs, but understanding overall that the mission and vision are bigger than any one program. He earned the respect of the faculty by being a quiet leader rather than a noisy leader or not a leader at all."
Carney emphasized consensus in his leadership. "He spent time getting to know the faculty" by meeting with departments, presenting annual reports to the faculty and sponsoring brainstorming sessions about WPI's future, says Rissmiller. "People were excited and exhilarated to be involved in exchanging ideas about the future of WPI" during these sessions.
Rissmiller and others at WPI expect Carney to bring this same team-building approach to UMR. Carney's "very inclusive" leadership style at WPI extended beyond the academic realm, however, as Heyl and other non–academic colleagues note. Working with Carney on a number of fund-raising efforts and consulting with him on internal issues as well, Heyl points out that Carney is not likely to rush to judgment on strategic matters. He'll also work to ensure all involved parties aren't caught off-guard by any shifts in plans.
"Jack doesn't like people to be surprised," Heyl says. "He likes to hear people's opinions, get their take on the issue. … He encourages people to participate in the process. He's willing to listen and make adjustments based on the input he gets."
Engineering an academic career
Carney learned all about making adjustments early in life. Growing up in the working-class city of Lowell, Mass., his greatest ambition was to follow in the footsteps of Red Sox immortal Ted Williams. "When I was growing up I wanted to be a professional baseball player," he says. "But it dawned on me that it wasn't going to happen." This epiphany occurred on the baseball diamond one summer during Carney's teenage years. The left-handed thrower and hitter played center field and batted leadoff for Lowell's all-star team in the Connie Mack League. "I finally faced this left-handed pitcher with a killer curve ball," he says, "and my eyes were opened."
His dreams of a professional baseball career further dissipated during his junior year in high school, when he broke his ankle sliding into second base during the first game of the season. The incident put him on the disabled list for the rest of the year. "They took my cast off the day after the last game of the season."
But as much as Carney excelled in baseball (and basketball), he also did well at math and science at his high school in Lowell. After high school, he enrolled in Merrimack College in North Andover, Mass., just 11 miles from home. He graduated first in his class in 1963, earning a bachelor's degree in civil engineering. In 1964, he married Pat, who was studying English at Lowell State Teachers College (now the University of Massachusetts-Lowell). It was the post-Sputnik space race era, and the federal government was looking for students interested in pursuing graduate degrees in technical areas. He received a National Defense Education Act Fellowship at Northwestern University in Evanston, Ill., near Chicago. "Once I got into graduate school at a place like Northwestern, coming from a small undergraduate institution, I suddenly realized how much I didn't know." After six months, he "drifted to what I call solid mechanics" and found an academic niche. He earned his master's degree in 1964 and Ph.D. in 1966.
His first academic appointment took him back to New England. Carney joined the University of Connecticut faculty in 1966 as an assistant professor of civil engineering. He stayed at UConn for 15 years – enough time to move up to full professor, and for him and Pat to start a family. (Their two daughters both live in Massachusetts and have families of their own.) While at Connecticut, Carney began to conduct research in the area of impact mechanics, particularly in relation to highway safety applications. His work led to the development of special safety systems, known as "impact attenuation devices," or crash cushions, now in use on highways throughout the United States and overseas.
In 1981, Carney accepted a position at Auburn University in Alabama as professor and head of civil engineering. He stayed for two years, spending half his time with administrative duties and half teaching and conducting research, before accepting a position as professor of civil engineering at Vanderbilt University in Nashville. There, he led the school's structures area of civil engineering but soon moved back into the administrative ranks, becoming associate dean for graduate affairs in 1989, then associate dean for research and graduate affairs in 1993. He joined WPI in 1996 as provost and vice president of academic affairs. "For the first time in 30 years," he says, "I stopped teaching."
A provost's life
Like UMR, WPI faced a crisis in the mid-1990s due to a decline in the number of engineering students. WPI faced a "constant struggle" to promote itself "as more than just an engineering school," Carney says. The campus leadership decided to invest heavily in marketing and broaden its academic offerings to include new degree programs such as an "interactive media and game development" major. At the same time, Carney was responsible for much of "the constant balancing-the-budget exercise" that was exacerbated by the economic downturn of recent years. As a result of declining enrollment and fiscal constraints, WPI had to make some tough budget decisions, including layoffs. The university cushioned the blow by open communication campuswide to make sure people understood why jobs were being cut. "People weren't happy about it, but they weren't angry," says Rissmiller. "They weren't blaming the administration."
Carney's significant accomplishments during his eight-and-a-half years at WPI include expanding the number of tenure-track faculty from 193 to more than 220; hiring more than half of the current tenured and tenure-track faculty; making the campus more welcoming to female faculty (28 percent of the new faculty hires were women, and he initiated a procedure to stop the tenure clock for one year for all faculty to take family leave); helping create the Center for Educational Development, Technology and Assessment; leading the renovation of several WPI laboratories; and bolstering the campus' Interdisciplinary and Global Studies Division to encourage more students to study abroad.
Next stop: UMR
Carney wasn't looking for a job when Greenwood and Associates, the executive search firm hired to assist in the search for a new chancellor, contacted him. But he was intrigued with the idea of taking the helm of a campus like UMR. "As an engineering educator, I've always had a high opinion of UMR, even though I'd never been there." Carney liked the similarities between UMR and WPI, so he decided to apply for the job. He was one of five finalists to visit campus, and search committee members and other campus representatives – "a cast of thousands," as he puts it – welcomed him and Pat. They even added a Boston touch to UMR's Midwestern hospitality by serving New England clam chowder. And how did it go over with the seafood aficionado? "It was pretty good!"
The rest of his weekend visit went well, too. "I was impressed with the overall campus and I was very impressed with everyone I met," Carney says.
Search committee members were equally impressed with Carney. They point to his breadth of experience and his reputation as a communicator, consensus builder and straight shooter as reasons for presenting him as one of the three finalists for the position. (UM President Elson S. Floyd selected Carney from the pool of finalists.) Having worked at both private (Vanderbilt, WPI) and public (UConn, Auburn) universities, Carney understands the strengths and weaknesses of both.
He's worked with governing boards and legislators, helped raise private funds from alumni and other donors, and worked tirelessly to be an inclusive communicator and decision maker. All of these attributes add up to make him the best choice for the new job, say search committee members.
"I think Jack Carney is an outstanding individual. … I'm very proud that he's coming," says committee member Larry Hendren, MinE'73, president of the MSM-UMR Alumni Association. "He brings to the table the experience in working in governmental relations, both with legislators within the state and federal level, and is a very strong supporter of alumni involvement. He also has an excellent track record of working with the faculty and staff and promoting and hiring minorities on the campuses he's worked in the past. He has virtually everything that we had on our wish list."
Adds committee member Julia Rosemann, EMgt'05, last year's UMR Student Council president: "I think Dr. Carney will bring the experience of a well-seasoned administrator. … He is a team player who understands the big picture and the role UMR plays in the public's welfare through our mission in higher education."
What sold Carney on UMR was the opportunity to build on the campus' solid reputation as a technologically focused university and to address the growing challenges facing higher education in a global economy. In the world of higher education, Carney says, technological universities like UMR already have two strikes against them: a lack of interest in technological education among college-bound students and a lack of preparedness for the rigors of such an education.
Concerned about the decline in the technological work force in the United States, Carney would like to see a renewed emphasis on technology similar to the post-Sputnik clarion call for science and engineering education that spurred him on to graduate school. Universities must play a leading role in such an undertaking, he says.
"We've got to start getting more young people interested in science and mathematics, and I think that's got to be a top priority for our country," Carney says. "The United States is in an educational crisis, and too many high school students can't even think of going to a university like UMR because they've made the wrong choices in high school. Schools like UMR and WPI have to take a proactive role in interacting with the elementary and high schools to stress the importance of technological education."
Carney is certain that UMR is headed in the right direction, but he believes the campus needs additional support if it is to enter the ranks of the world's great technological universities. That support must come from increased private donations, additional research funding and growth in the student body. He doesn't claim to have all the answers, but – working to build consensus, just as he did at WPI for nearly a decade – he will be quick to solicit the ideas of everyone else on the team.
One of Carney's biggest supporters is his wife of 41 years, Pat Carney. "I think Jack's going to be great in this job," she says. "I think he has a fantastic personality and he's a fabulous problem-solver. Plus, he's just a very nice person."
And ever the consensus seeker, he's unafraid to solicit the advice of his closest confidant. When asked over dinner about leaders who have influenced him, Carney defers to his wife.
"Who are my heroes, Pat?"
"Ted Williams," she says, without missing a beat.
Carney shakes his head, grinning. "Enough about baseball," he says.