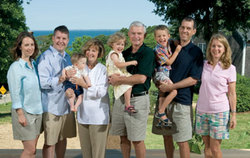 Jack Carney's ability to balance work and family life impressed many of his colleagues at WPI. "Jack always balanced a very heavy workload here but always found time to spend with his family," says Laurie Smith, an assistant to Carney when he was WPI provost. "He was very busy," adds Kent J. Rissmiller, an associate professor of social science and policy studies at WPI, "but he would walk home to lunch with his wife many days – not every day, but most days." So who are the people in this family Carney holds so dear? Here's a snapshot:

Patricia (Pat) Carney, Jack's wife of 41 years. Also a native of Carney's hometown of Lowell, Mass., she holds a bachelor's degree in English and a master's degree in library science. Throughout Carney's academic career,
Pat has pursued her own career path, working in a variety of libraries, including Meharry Medical College in Nashville, the Holden (Mass.) Public Library and University of Massachusetts Medical School in Worcester.
Daughter Anna Goering of Southborough, Mass., who graduated summa cum laude from Vanderbilt University in molecular biology and French, then earned master's degrees in French literature and environmental engineering from Cornell University. She and her husband, Bradley Goering, have two children, Andrew, 5, and Cate, 3.
Daughter Catherine Carney of Cambridge, Mass., who majored in computer science and art at Northwestern University and is now a software analyst. She and her husband, James Pogozelski, have one son, Leo, 9 months.