UMR capital campaign seeks to strengthen campus is key areas
If there is one common quality among UMR alumni and friends, it's loyalty.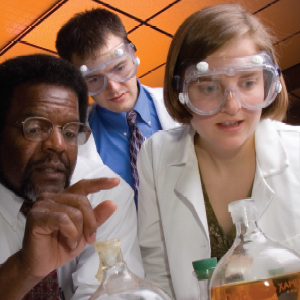 Harvest Collier (left), vice provost of undergraduate studies, with chemistry students Kyle Anderson and Kylee Hyzer. | photo by Ian Nance
Take, for instance, Helen Lasko. The wife of the late Edward P. Lasko, MetE'50, established two scholarships totaling $100,000 and an estate gift that will add nearly $2 million more with money she made playing the stock market. But the gift that means the most to her is the $50 check she sends to the football program every March 17 in honor of Edward's birthday. He played football for the Miners and UMR was important to him. Now it is important to Helen.