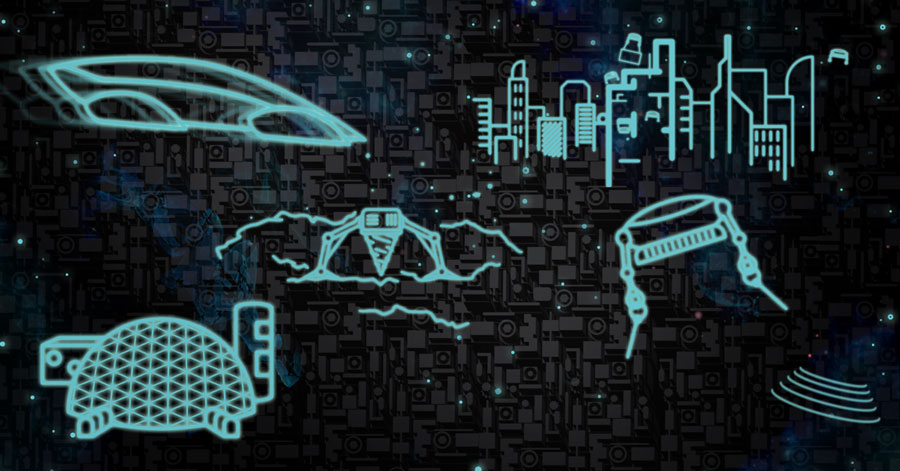 Missouri S&T Magazine staff asked alumni, students and faculty to fast-forward their minds to 150 years in the future and tell us which of today's big ideas will become reality. Here are a few of their answers.
---
I see the most creative use of advanced materials and clean energy in power storage, flying cars and spaceships, and equipment that can be used for extracting minerals from other planets. We can also continue to provide food for the growing population in a more sustainable and energy-efficient manner than what we have today.
— Fateme Rezaei, associate professor of chemical and biochemical engineering
I think 150 years from now people will be living and working on the moon, commercial companies will mine resources from asteroids, and brave explorers will survey other planets like Mars. Missouri S&T's focus on interdisciplinary research efforts will foster space system technology development by challenging what was done in the past and looking to what can be accomplished in the future.
— Jill Davis, Ph.D. student in mechanical and aerospace engineering
Metals are critical components of modern society. Aside from recycling, we recover metals from non-renewable ore deposits. To guarantee a steady metal supply in the future, we must open new search space for ore deposits. Missouri S&T can lead global exploration efforts and design new ways to recover metals from unprecedented depths within Earth as well as on extraterrestrial bodies such as meteorites.
— Marek Locmelis, assistant professor of geosciences and geological and petroleum engineering
Construction will be cheaper and more sustainable because of more efficient processes using artificial intelligence and recycled materials. Prefabrication will be widespread. We'll see 3D-printed buildings. Robots will perform hands-on tasks under the supervision of humans in the trades, and drones will do the work of cranes.
— Trevor Becherer, CE'14, project manager at Clayco
Einstein's Theory of Special Relativity will be replaced with the theoretical construct that includes speeds beyond the original limitation of the speed of light. Missouri S&T's 2,000-square-foot Lightwave Technology Lab will be a lab on a chip, which students will routinely use to jump backward in time to boost their grades and find their misplaced communication devices and transporters.
— Jie Huang, assistant professor of electrical and computer engineering
Ethics matters. As advances continue to expand the reach of human power, it seems likely that more reflection on possible consequences, including existential risks to humanity, will be necessary for us to continue to flourish. Beyond consequences, we need to continue to think of the ways in which the systems we design and create can be just.
— Patrick Gamez, assistant professor of arts, languages and philosophy
---
What do you think?
What will life be like in the year 2171? How do you think technology will be integrated into people's lives? What will be entirely new? Go to 150.mst.edu/future to share your thoughts.