A leader passes, a legacy endures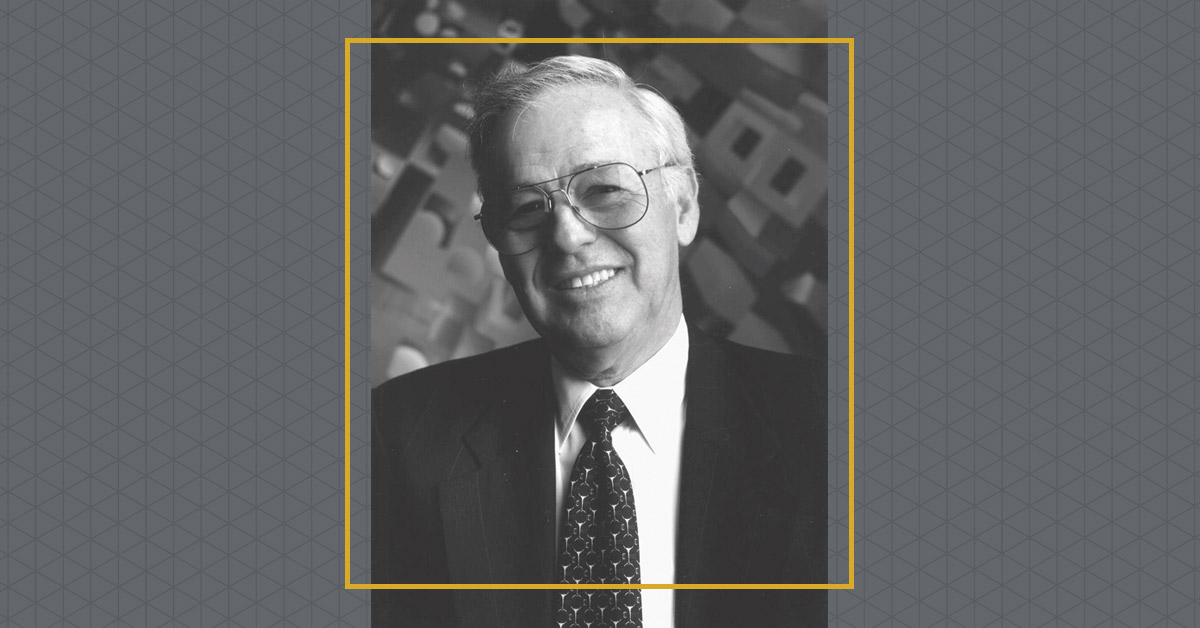 In memoriam, Fred S. Kummer (1929–2021)
It is with great sadness that we report the death of Fred S. Kummer, CE'55, who passed away April 30, 2021. Memorial donations may be given to Shriners Hospital for Children — St. Louis, 4400 Clayton Ave., St. Louis, MO 63110, or online at shrinershospitalsforchildren.org/st-louis. All donations must mention St. Louis for the funds to stay in St. Louis.
---
Dear Friends,
On one wall of Fred S. Kummer's corporate office once hung a motto — a gift from his wife, June — that fittingly summarized how Fred viewed his business:
Every organization is in reality a lengthened shadow of its leader.
I can think of no better description of Fred Kummer's influence.
Fred's shadow was indeed long. During one of our frequent visits at his St. Louis home, I recall telling Fred about a trip to Dallas and the many upscale amenities and the beautiful design of the hotel where the meetings were held.
"You know, I built that hotel," Fred said with a smile.
Indeed, he had. It was one of the 25 Adam's Mark Hotel properties Fred had built and operated over the years. Even at age 91, Fred vividly recalled details of that property as though he was there the night before. His attention to detail was a characteristic that helped him grow his company, HBE Corp., into the world's largest design-build firm for health care and financial facilities.
Fred, CE'55, and June started their company in 1960 out of the basement of their Crestwood, Mo., home. An architect and graduate of Washington University in St. Louis, June was Fred's business partner in the truest sense. From their humble beginnings, Fred and June designed and built 1,012 hospitals and health care facilities, numerous financial institutions, the Adam's Mark Hotel chain, and a ski and golf resort in Colorado among many other remarkable undertakings. They gave generously to Missouri S&T projects including the Kummer Student Design Center, the Kummer Atrium in Butler-Carlton Civil Engineering Hall and the Kummer Garden at Hasselmann Alumni House. Fred was a leader in our Academy of Civil Engineers, Order of the Golden Shillelagh and Board of Trustees. He co-chaired our Full Circle capital campaign in the 1990s. He also served on the University of Missouri Board of Curators.
Fred passed away April 30 of this year, just one week after his 92nd birthday and a little over six months after he and June gave our university the most transformative gift we have ever received. Their $300 million donation to establish the Kummer Institute will create opportunities for thousands of future students and will create economic opportunities unlike anything our region has ever experienced.
In the brief time that I knew him, I came to know Fred as much more than a generous donor. For me, Fred was a true friend, a teacher, a mentor and an inspiration.
Fred was passionate about his alma mater. He was also concerned that we weren't realizing our true potential to transform education and graduate more outstanding engineers and scientists. For many years, Fred told me, he had been concerned about the declining interest in STEM education. He saw this as a threat to our nation's competitive edge in the global economy. He also saw Missouri S&T, as I do, as a crown jewel of STEM education, and as an institution deserving of greater investment.
I will be forever grateful for Fred and June's decision to invest once again in this crown jewel of higher education.
Rest easy, Fred. We dearly miss you, and on behalf of all of us at S&T, thank you.
— Mo Dehghani, Chancellor