Students, alumni share virtual STEM outreach with housebound kids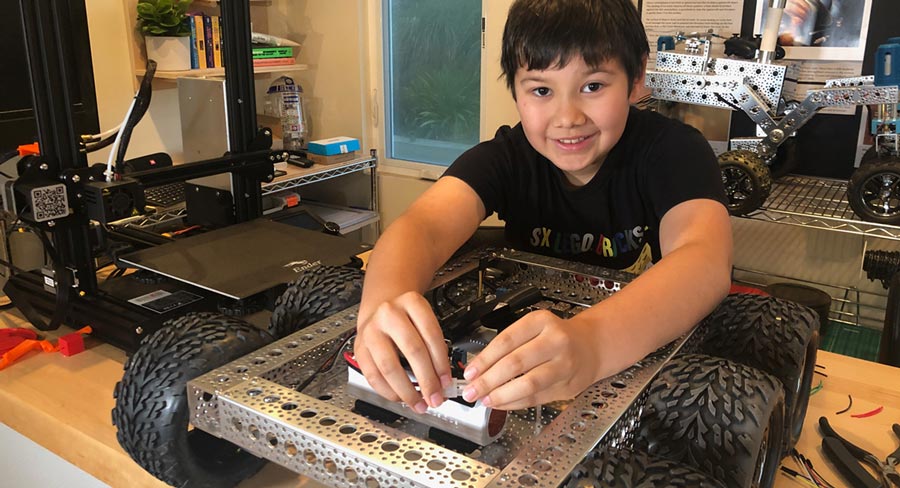 When the coronavirus pandemic caused schools to close, S&T students and alumni took the opportunity to share their STEM (science, technology, engineering and math) knowledge in unique ways with housebound kids.
S&T's Mars Rover Design Team members adapted their traditional onsite K–12 outreach visits to virtual learning sessions for curious kids.
"Teaching future engineers and STEM innovators about space exploration is a big part of the Mars Rover Design Team's mission," says Téa Thomas, a senior in business and management systems and the team's public relations lead. "We want to help parents and teachers who are homeschooling, and the outreach is a lot of fun for us."
In mid-March, Thomas issued a Facebook invitation offering virtual outreach sessions and received an overwhelming response from almost 200 parents and teachers across five countries and 12 U.S. states. She set up four presenters from the 75-member team to share their knowledge using various video conferencing platforms.
The sessions drew small groups of inquisitive children, mainly ages 6 to 9, who asked questions about the rover's assemblies, autonomous navigation system, programming languages and wheel construction, as well as its 15 motors.
Leonardo Sent (pictured above), a fourth-grader from Orange County, Calif., attended all the S&T virtual sessions.
"I learned how to use the Mantis suspension and how the many different assemblies you have work inside the body off the Linux operating system," says Sent, who already built a rover through NASA's Jet Propulsion Laboratory Open-Source Rover Project and created instructional YouTube videos for each assembly.
Grace Deitzler, BSci'16, who is working toward a Ph.D. in microbiology at Oregon State University, reached out to Facebook friends with an offer to teach their children anything they wanted to learn about science.
Deitzler spoke on video to a kindergartner and second-grader on the timely subject of the life cycle of germs and customized a session with another second-grader about microorganisms in the ocean and their importance to coral reefs. She advocates scientific representation to children at an early age.
"As a kid, I only knew a few scientists who let me ask questions," Deitzler says. "Kids want to learn … and I want to show them what the path to becoming a scientist is like."