'Glo-Kart' heads to national competition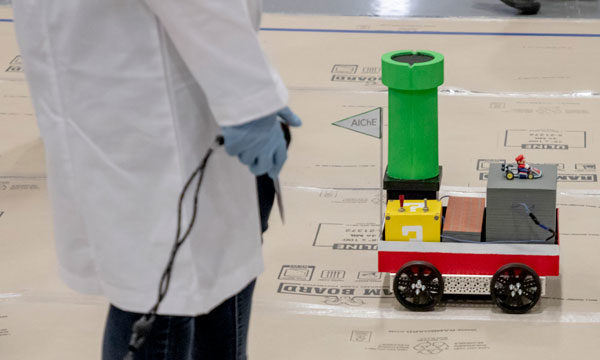 Powered by a six-cell lead-acid battery and stopped with a chemiluminesence reaction using luminol, Glo-Kart, one of two S&T entries in a regional 2019 Chem-E-Car competition, took second place and qualified for nationals.
The national competition will take place during the 2019 National American Institute of Chemical Engineers (AIChE) Student Conference in Orlando, Fla., in November.
S&T's other entry, dubbed Terry Cruise, also drew power from a lead-acid battery, but it used a dye-changing RedOx reaction with bleach and black food coloring. Terry Cruise took third in the competition.
The cars competed as part of the AIChE regional competition, which S&T hosted in April.
For Chem-E-Car competitions, students must design and build vehicles that start and stop using only chemical reactions, not mechanical parts.
At the regional competition, all vehicles had to travel a randomly assigned distance between 15 and 30 meters. The random stopping point forced team members to adapt and perform calculations in a short period.
Teams had to calculate the average velocity of their vehicle and decide how much of the chemical solution would be needed to activate the battery power. The car closest to the finish line at the end of the race earned the greatest number of points.