Analyzing small molecules for big results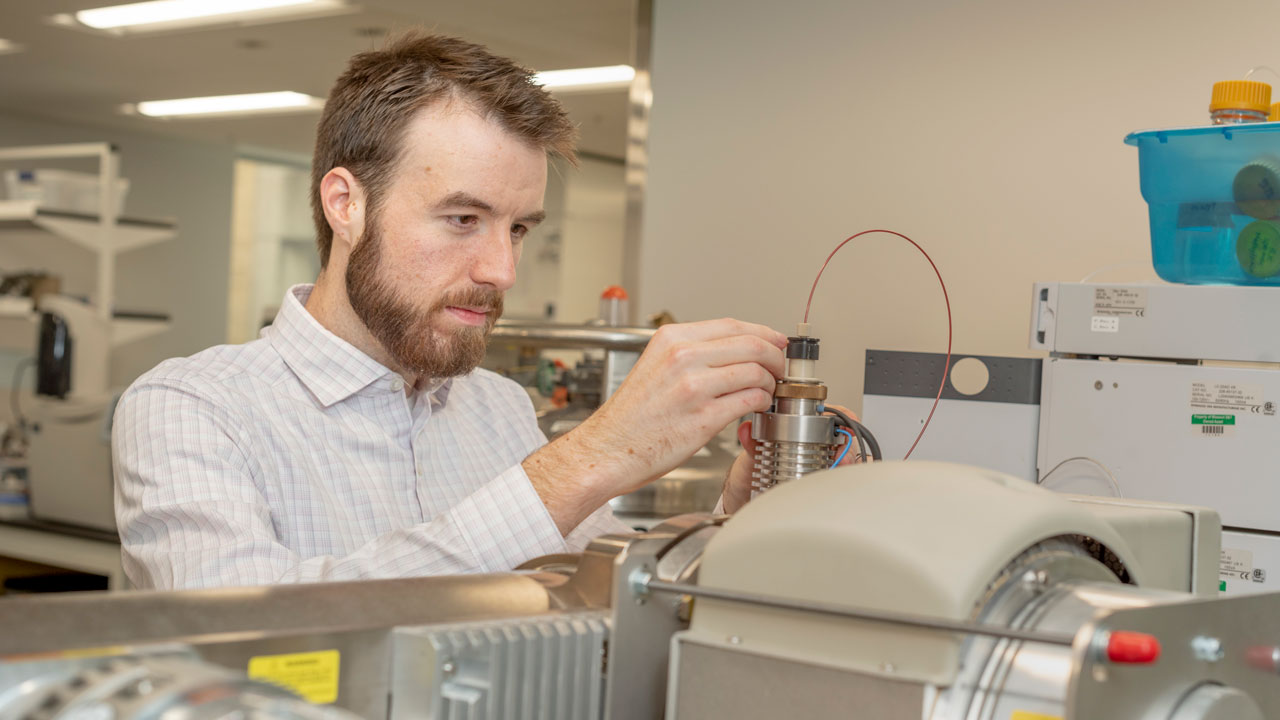 By Delia Croessmann, croessmannd@mst.edu
At only 28 years old, Casey Burton, Chem'13, PhD Chem'17, director of medical research at Phelps Health in Rolla and an adjunct professor of chemistry at Missouri S&T, is poised to become a prodigious bioanalytical researcher.
His scientific quests have already led to the publication of over 20 scientific journal papers, mostly focused on the development of small molecule screening methods used to diagnose pathologies, particularly through the use of urinary metabolites.
When Burton first came to Missouri S&T as an undergraduate, he had already conducted scientific research. As a high school sophomore at School of the Osage in Lake Ozark, Mo., he validated the hypothesis that perfect pitch could be taught through a gamification experiment that suggested school children could accurately identify the 12 chromatic pitches after training. His research was later published in the Undergraduate Journal of Psychology at Berkeley in 2013.
At S&T, Burton's scientific potential was recognized by Yinfa Ma, Curators' Distinguished Teaching Professor emeritus of chemistry, who was Burton's academic advisor and mentor throughout his undergraduate and graduate studies.
"Casey Burton continues to display a remarkable scientific aptitude and passion for bioanalysis that has led to significant advances in targeted urinary metabolomics for use in molecular epidemiology," Ma says. "Among many examples are the academic challenges he pursued creating composite urine biomarker panels, then translating that work into the development of new instrumentation and technologies."
Burton and Ma worked together for a decade — from Burton's undergraduate years through completion of his Ph.D. — to discover and develop urinary biomarkers for noninvasive early detection of cancer, the subject of Burton's dissertation and 14 of his published papers. Burton's research has also contributed to breakthroughs in the bioanalysis and application of a group of metabolites called pteridines in cancer detection and diagnosis.
Moving into TBI diagnostics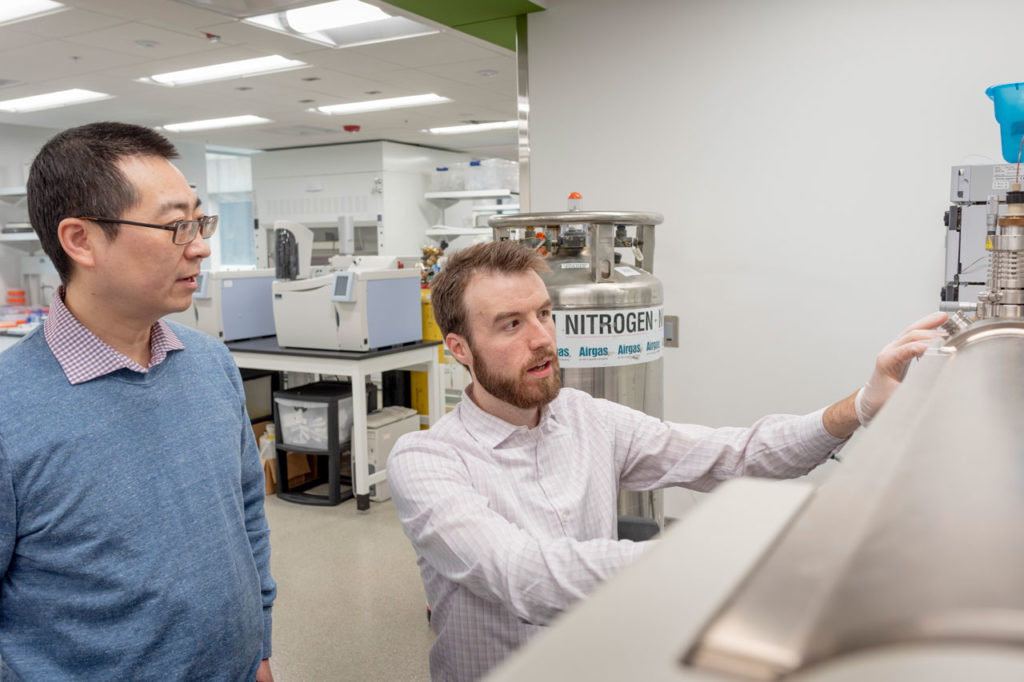 With this background, Burton is well-positioned to expand his bioanalytical expertise into the search for similar urinary biomarkers that may help detect traumatic brain injuries (TBIs).
Today he leads a $1.24 million research project, "Assessing Traumatic Brain Injury Noninvasively with Urinary Metabolites," which aims to develop a simple blood or urine test to assess whether a TBI has occurred. He hopes that this new approach will result in a new medical device that can be deployed in the field.
This project is one of seven supported by the Acute Effects of Neurotrama Consortium (AENC) and funded by the U.S. Army Research Laboratory through the Leonard Wood Institute near Waynesville, Mo. Collaboration with the Fort Leonard Wood Army training post is critical because up to 85% of military TBIs result from training activities.
According to Burton, current approaches to detect TBIs are inadequate. Many involve cognitive assessments or advanced neuroimaging techniques that can be either subjective or impractical for use in the field.
"Early detection and diagnosis of TBIs are essential to identify patients at risk of developing ongoing symptoms," says Burton.
Burton's research involves identifying 20 molecular biomarkers (five proteins and 15 metabolites) to create a "TBI fingerprint."
"These metabolic indicators are sensitive to subtle changes in the biological and physical indicators of TBI and can be measured more easily than conventional protein biomarkers," he says. "With our unique approach, we aim to determine the feasibility of using these small metabolites in urine to noninvasively detect a TBI."
Teaming up for a three-phase validation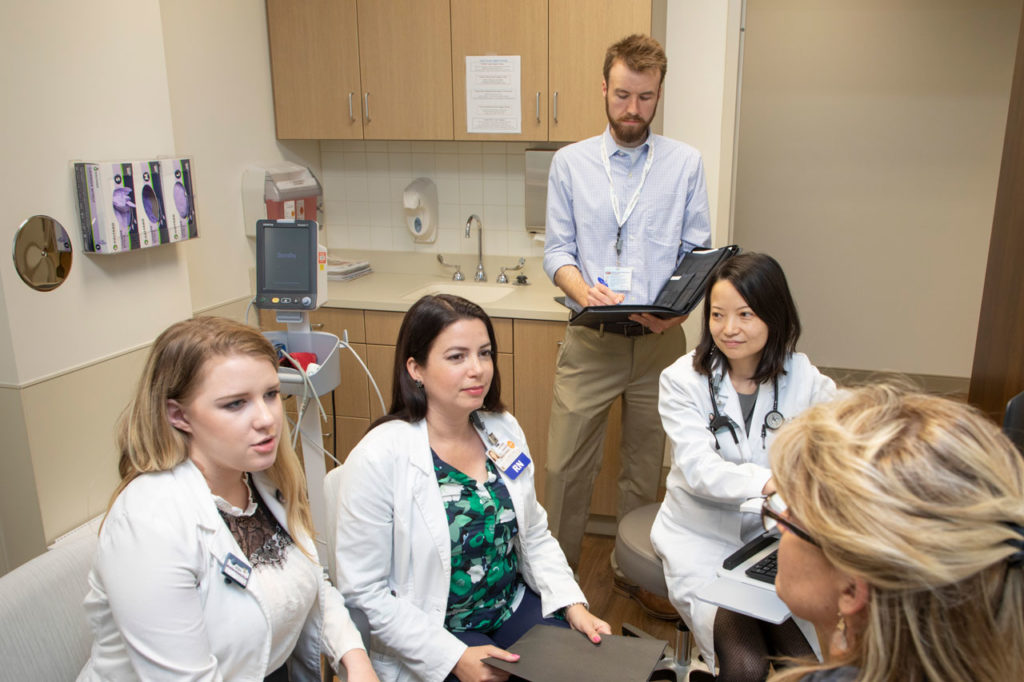 The project has three phases: one to develop the core technology to screen these biomarkers in blood; one to compare their levels in TBI patients and healthy individuals; and one to study their changes after intensive training at the Fort Leonard Wood breacher course, where soldiers learn how to break barriers with explosive devices.
The project draws on the expertise of co-investigators Honglan Shi, PhD Chem'10, a research professor of chemistry at S&T; Paul Nam, associate professor of chemistry at S&T; and Dr. Donald James, AENC chair and senior vice president for research and government affairs at Phelps Health. Shi and Nam will develop the method and oversee the work of graduate and undergraduate students, while James will help design the experiments and coordinate with Fort Leonard Wood.
In the first phase, the researchers will develop a method to analyze and identify 20 TBI biomarkers in serum and urine.
The second phase explores the feasibility of using the biomarkers with two groups: 60 TBI patients recruited from the General Leonard Wood Army Community Hospital and a control group of 60 recruited from the 43rd Adjutant General Battalion at Fort Leonard Wood, where basic combat training takes place.
In phase three, the researchers will evaluate the two groups as they go through the breacher course, where they are repeatedly exposed to low-level blasts. Burton and his team will monitor short- and long-term changes in the participants' biomarker profiles in relation to individual and cumulative blast forces.
Burton expects the research to take about two years to complete.
"With this project, we're in a great position to help the military and the general population by providing a better way to detect TBIs so we can focus on providing the appropriate treatment to mitigate their long-term effects," says Burton.