Soaring past the competition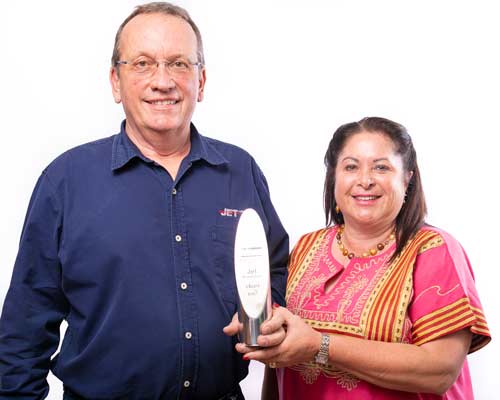 Joe, MinE'81, MS MinE'82, and Liz, MetE'82, Brinkmann, owners of Jet Demolition, earned the Industrial Demolition Award at the 2018 World Demolition Awards. This is their second consecutive annual award.
After graduation, the couple moved to Johannesburg, South Africa, where Joe founded a blasting consultancy company in 1989. After securing patents for shaped explosive charges, Jet Demolition was founded in 1994. Liz joined the company in 1996.
Jet Demolition, which develops and manufactures its own specialized tools and has 32 excavators in its fleet, focuses mainly on projects in Africa, but is considering expansion to India, the Middle East and South America. The company's "HammerJet" range of charges attracted the attention of mining conglomerates like Anglo American for partnerships and earned the company new projects.
"Very few companies such as ours have an in-house blasting capability, and invariably outsource this to a specialist," says Joe. "Not only do we have all our own equipment, but we do all of the work ourselves, which places us in a very strong position."