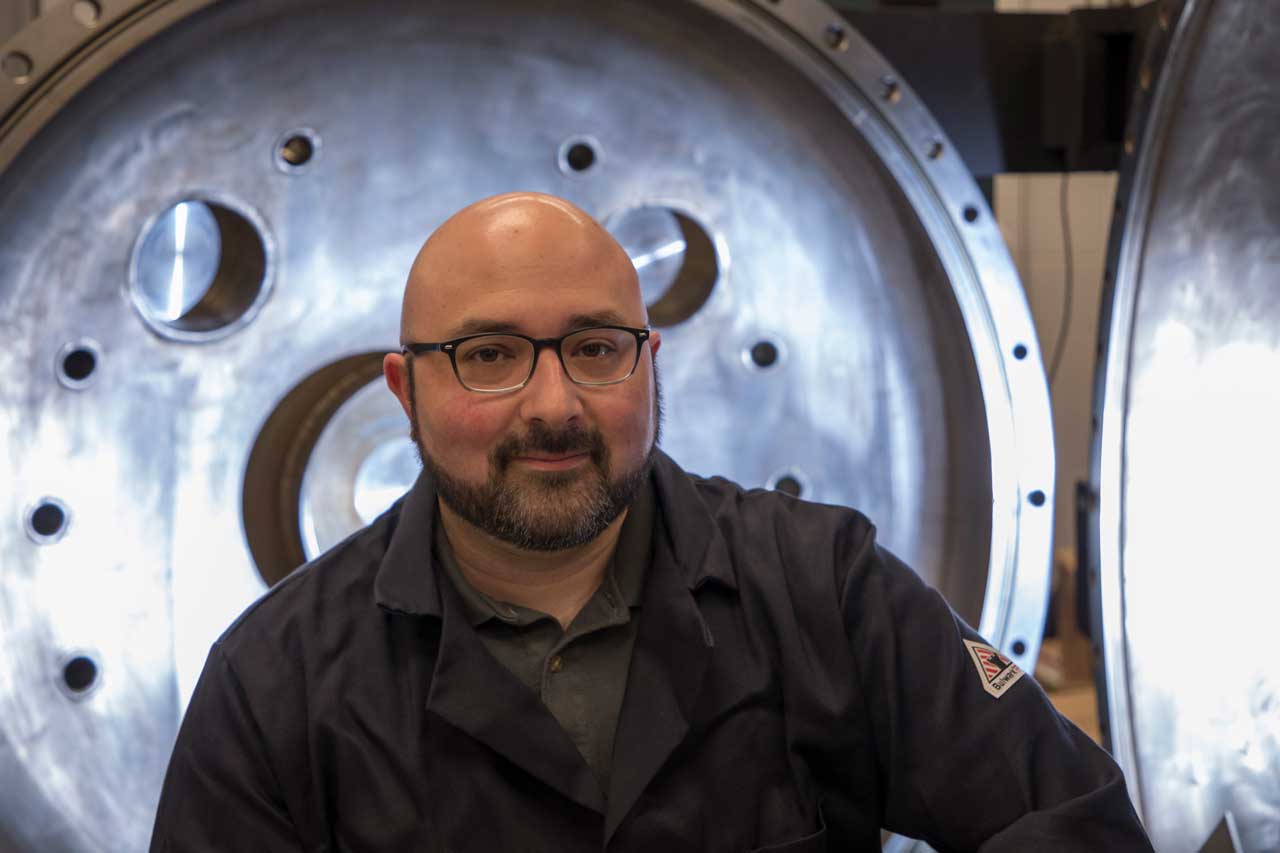 New faculty seek to make a difference at S&T
When he first came to campus a decade ago, David Lipke had no idea that he would one day call Missouri S&T home. The Georgia Institute of Technology Ph.D. student instead had a more narrow focus: gaining access to a piece of specialized equipment that his home institution — one of the nation's top programs in materials science and engineering — didn't have at the time.
"That's one of the uncommon strengths of this campus, that it maintains those facilities," says Lipke, an assistant professor of ceramic engineering who joined S&T in 2017.
Whether engineering or psychology, computer science or history, the professors whose academic careers lead them to Rolla often hail from some of the top institutions of higher education in this country and beyond, from Oxford to the Ivy League.
Their reasons are varied, but interviews with members of the current crop of new faculty and recent hires suggest a common thread: the chance to conduct world-class research and teach some of the best and brightest while living in a family-friendly community where the commute is usually measured in minutes, not hours.
"I'm much happier in a small town like Rolla than a big city like L.A. or the huge Bay Area," says Jason Murphy, an assistant professor of mathematics and statistics since 2017 who spent three years as a postdoctoral fellow at the University of California, Berkeley and earned his doctorate from the University of California, Los Angeles. "It was easy for me to make the choice to come here."
"It felt like home," says William Gillis, ME'99, PhD EMgt'13, an assistant teaching professor in architectural engineering. "While walking around campus as a student in 1995, I had a distinct feeling that I was supposed to be here, though I had no clue why. Now, throughout my time at S&T as a student, engineer and instructor, I have met many amazing people all across the campus. So many of them reached out, supported me and helped me to succeed."
For Amy Belfi, an assistant professor of psychological science, trading the sights and sounds of Greenwich Village as a New York University postdoctoral researcher for her first faculty job at Missouri S&T was admittedly an adjustment.
It also was a homecoming for a St. Louis native who spent her undergraduate years at St. Olaf College in Minnesota and earned a Ph.D. in neuroscience from the University of Iowa.
"Our apartment in New York was a 400‑foot studio walk-up," she recalls with a laugh. "It's so nice to have a house that feels like a palace. … Now I don't miss that much about New York."
An expert in how the human brain reacts and responds to music, she left a department with nearly 50 faculty members, and a bevy of brain-imaging equipment, for a much smaller group of colleagues at a university better known for its engineering programs. In Belfi's case, that meant quickly finding a supportive environment where she can stand out rather than risk getting lost in the shuffle.
"It feels so much more collegial here," says Belfi, while emphasizing the "amazing" time she had at NYU. "I didn't really know a lot of people at NYU outside my lab. I felt a bit sequestered.
"This is a place where I could explore the questions I wanted to answer."
Credit Star Wars for luring Yun Seong Song to S&T by way of Carnegie Mellon University, the Massachusetts Institute of Technology and Georgia Tech.
The assistant professor of mechanical and aerospace engineering, whose research focuses on human-robot interaction, fell hard for the field after watching the George Lucas film series as a child.
"I wanted to build a C-3PO, a robot that moves like a human," he says.
That childhood passion led Song to study engineering as an undergraduate in his native Korea before stops in Pittsburgh for his master's degree, greater Boston for his Ph.D. and both Atlanta and Switzerland for a pair of postdoctoral fellowships. He joined S&T in 2016.
"It wasn't a difficult choice," Song says. "What convinced me to come here was the faculty support for young faculty. It's really the culture of the department.
"There's a lot of uncertainty as you transition from a postdoc to a young faculty member," he continues. "I hear stories from my friends who started their careers at the same time. That support is not always available."
Murphy, another St. Louis native and a scholar of harmonic analysis and partial differential equations, was also familiar with the campus and community. He too cites the advantage of working in an academic department where more isn't necessarily better.
"This department is a tight-knit group of like‑minded people who all seem to be on the same team," he says. "It's easier to feel like you as an individual can make a positive difference."
Lipke, the ceramic engineer whose first faculty position was at Alfred University in New York, singles out the campus' Center for Advancing Faculty Excellence for its role in providing new faculty with both resources and a forum to engage with peers from across academic disciplines.
"It's really clear to me that the school values and supports its new faculty," he says. "They provide you with all kinds of perspectives and open the doors to network. Even as someone who already has four years of faculty experience on the tenure track, I'm still learning and benefiting from that program. That's something you don't see at a lot of other schools. It's reflective of the culture here."