Rock-and-roll grandpa earns Ph.D.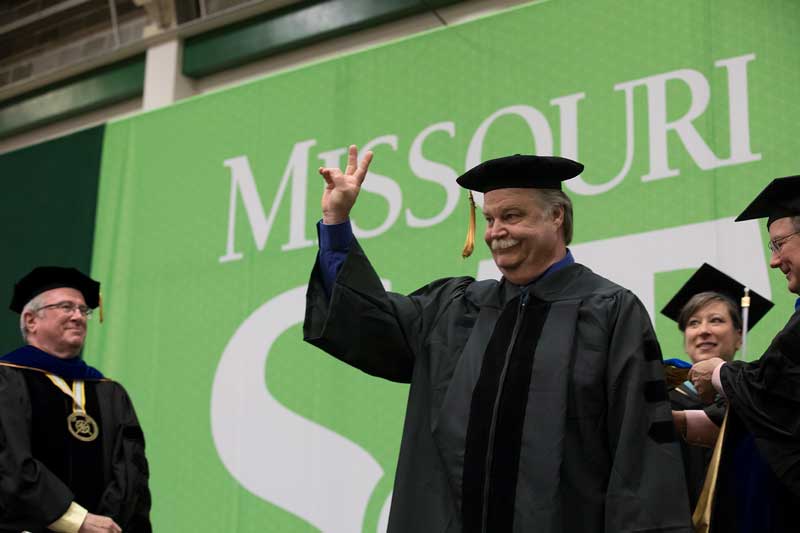 He's driven the backroads with some of the biggest names in rock and roll, from Def Leppard and KISS to John Denver and the Eurythmics, hauling both gear and performers as a truck- and bus-driving roadie.
Yet despite his many brushes with fame, what gets Mike Lusher, CE'96, MS CE'04, PhD CE'18, most excited these days is his research into an unassuming desert shrub that some predict will revolutionize the rubber industry.
A fascination with the guayule (why-YOO-lee) plant that began a dozen years ago while watching an episode of the History channel show "Modern Marvels" culminated in a Ph.D. in civil engineering for the 64-year-old grandfather, who received his diploma last May.
"Along with being a source of rubber, this is a renewable, domestic source of binder-modifiers for asphalt," Lusher says of guayule. The plant, native to northern Mexico and the southwestern U.S., is a source of resin that he and others envision as an eco-friendly alternative to petroleum-based additives used in asphalt pavement.
Such scientific insights were far from Lusher's mind while growing up as a music-obsessed teen in Union, Mo., he says. The drummer instead returned home from college to pursue his rock-and-roll dreams, touring regionally with several bands before deciding to settle down in the mid-1970s.
Starting with soul band the O'Jays in 1977, Lusher spent more than a decade on and off the road, driving for the likes of Jackson Browne, Kris Kristofferson, Rick James, and Southside Johnny and the Asbury Jukes. He returned to school in 1990, earning an associate's degree in engineering from East Central College in his hometown while in his mid-30s.
In school, the lure of the road persisted for Lusher, who spent some summers as a 40-something undergraduate hauling around groups like Boz Scaggs and Jimmy Buffett. Since 2005, he's worked full-time for S&T as a research specialist and lab manager under David Richardson, CE'71, MS CE'73, PhD CE'84, Chancellor's Professor of civil, architectural and environmental engineering and Lusher's advisor.
"When I first saw Mike in the classroom, he looked like a middle-aged truck driver — not your typical college student," Richardson recalls. "But it was quickly apparent that he was the smartest guy in the room. The type of research Mike was doing with guayule helped move our binder laboratory capability up several notches."