Where art and science intersect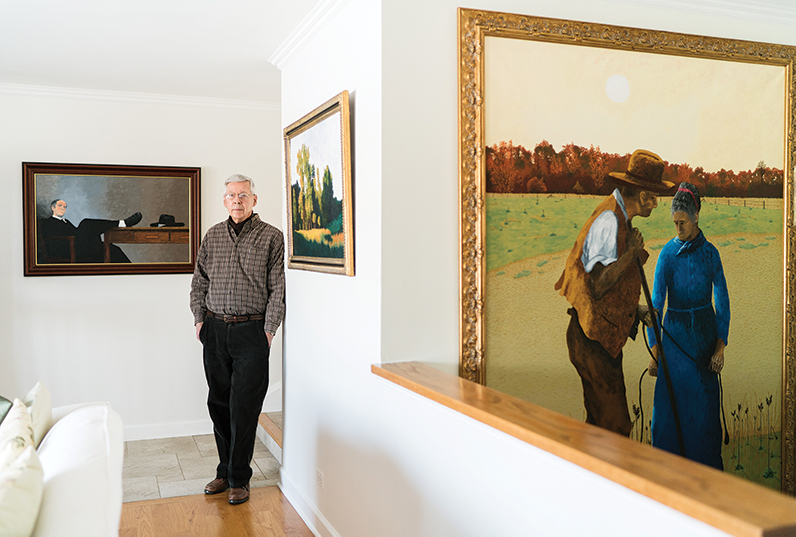 To painter Donn Ziebell, art is not an escape from his scientific career, but an intersection of that career with artistic creativity.
"To be scientific is to practice inquiry and collect information, as in observing and absorbing detail from things seen, read or heard," says Ziebell, MetE'57.
Throughout his 30-year career in manufacturing and consulting, Ziebell used that scientific curiosity in aluminum processing, non-ferrous metal casting, nuclear fuel development, fiber metal technology and stainless steel consumer product manufacturing.
"My Rolla degree allowed me to solve some difficult metal problems in industries that helped me stand out among metallurgists from other universities," he says.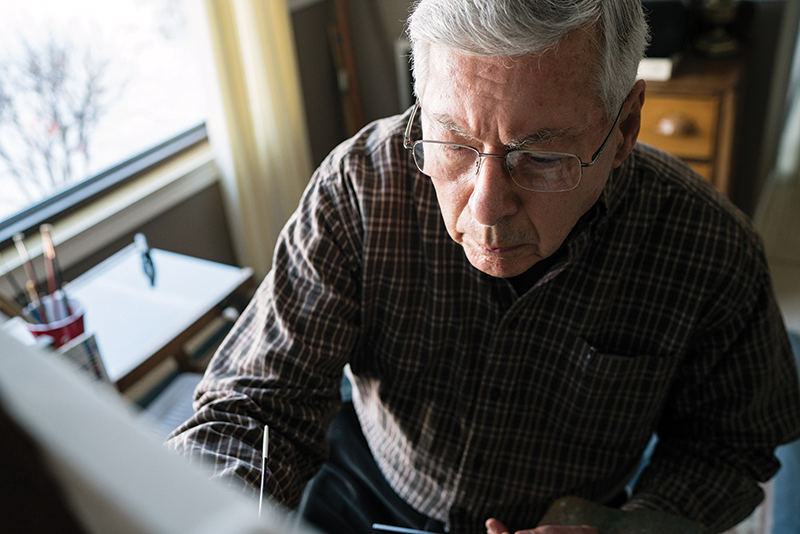 As an artist, Ziebell uses that same scientific curiosity.
"Observation creates images in the mind that are improved, manipulated and refined until a concept for a painting arises," Ziebell says.
It's a process he has completed dozens of times since he first began painting during spring break of his junior year in Rolla.
"I was home on break and told my father, a painter, I wanted to try oil painting," Ziebell says. "He gave me a blank canvas, brushes and his oil paints. My only instruction from dad was simple but difficult. Paint the farthest things first and then gradually come closer and closer.
"I struggled, but by the time I reached the foreground in my first painting, my feeling for the brush clicked and I knew I had the gift for painting."
Ziebell says his engineering drawing perspective helps him create depth in two-dimensional paintings. And his love of metallurgy is obvious.
"I get a kick out of using the 'metal compounds' within tubes of oil paint pigments like chromium green, zinc yellow, titanium white, cobalt violet and more."
Ziebell recently donated two of his larger 5-by-7-foot works, Kinzie Street Bridge Angels and Running in Scotmany, to the pediatric wing of Advocate Good Shepherd Hospital in Barrington, Ill., in memory of his late wife, Jean.
Sometimes, however, Ziebell finds it difficult to part with his work. That's why two of his favorite paintings hang in his Lake Barrington, Ill., home.
"Sometimes an artist has so much investment of self in this process that the work of art becomes so valued by the artist that it hinders the willingness to sell and part ownership."
Ziebell's artwork can be viewed online at yurart.com. His favorites are Harvest Invitation and Pencil L. Hunter with Missing Hat (pictured above left) which was awarded third place in a 2005 Winston-Salem National Art Exhibit by juror Marc Pachter, director of the National Portrait Gallery at the Smithsonian Institution.