Stephanie O'Sullivan: Life after intelligence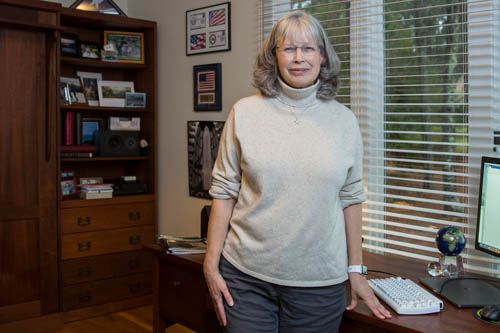 Biding her time in the waters of the Chesapeake Bay while preparing to enter the job market, recent Rolla graduate Stephanie (Mink) O'Sullivan responded to a cryptic newspaper classified ad seeking an "ocean engineer."
Little did she know that the help-wanted ad — the work of then-defense contractor TRW — would launch a lengthy career as a U.S. intelligence officer, including more than 15 years with the CIA and culminating in a 6-year stint as principal deputy director of national intelligence before her retirement from federal service in early 2017.
"I thought, 'I'm an engineer. And I'm living on a boat,'" says O'Sullivan, CE'82, who moved to Annapolis, Md., after graduation to temporarily stay with her seafaring parents. "So I put those two together and applied with confidence. … It was a very lucky accident for me."
O'Sullivan's career took her into the highest corridors of power, from testifying before Congress to helping lead the post-Sept. 11 fight against global terrorism while the country sent troops to Afghanistan and Iraq.
These days, she remains active as a member of The Aerospace Corp.'s board of trustees and a strategic advisor for companies such as Google. The native of Cape Girardeau, Mo., who grew up outside of St. Louis and spent part of her teen years in London, now calls North Carolina home.
"I'm catching up with real life, outside the bubble of intelligence in D.C., and exercising the privilege of having retired, I get to choose who I work with and what I work on," she says.
That includes a return to her alma mater, where O'Sullivan was the keynote speaker in the fall of 2016 at the Expanding Your Horizons conference, a program to boost interest in science, technology, engineering and mathematics among middle school girls. She also delivered the commencement speech to new graduates in May 2017.
O'Sullivan (who is married to college classmate Pat O'Sullivan, EMgt'83), describes a childhood fascination with the order and structure of engineering exhibited by an uncle who designed Mississippi River bridges.
"That's something that is so enduring, and has so many practical and useful functions," she says.