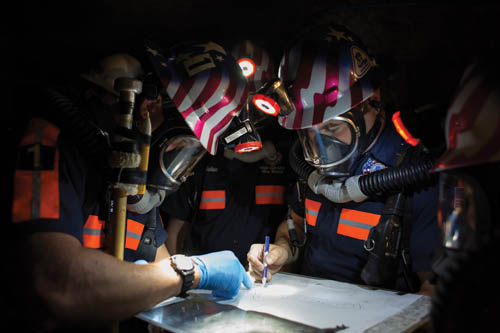 For the past 35 years, professional mine rescue teams from across the country have descended on Missouri S&T's Experimental Mine for a competition that is both friendly and a matter of life and death.
The simulated mine emergency provides many of its industry participants with the opportunity to practice in a real-world setting they can't replicate back home.
"With a rescue situation, the last thing you want to do is figure out what to do in the midst of an emergency," Anna Hui, director of the Missouri Department of Labor and Industrial Relations, told the Rolla Daily News while observing the event. "Competitions … like this allow for teams to drill, so that when an emergency comes, it's just second nature on how to respond."
A pair of Missouri S&T student teams competed alongside the pros, with one S&T squad finishing at the top of the first-aid portion of the event and fourth in the competition's field portion. The event attracted two dozen teams from companies including Mississippi Lime, Doe Run, Martin Marietta and Vulcan Materials.