Pushing the boundaries of space exploration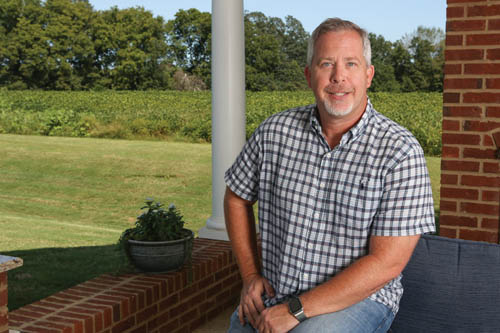 Space tourism could start in the next  two years, says Jeff Thornburg, AE'96, but it's going to be expensive.
"Five minutes of weightlessness is pretty cool to a tourist, and it definitely gives you the astronaut experience," Thornburg says. "But at around $200,000 a ride, not everyone is going to be able to do it. But not everyone could ride on the first airplanes for the same reason."
As the vice president for propulsion engineering at Stratolaunch and the founder of Interstellar Technologies LLC, Thornburg hopes to change that. He wants to expand access to near-Earth orbit, the moon and the solar
system — and then take people along for the ride.
Stratolaunch is building the outer-space version of an aircraft carrier, or in other words, a flying launch site for new spacecraft. Expected to debut before the end of the decade, the aircraft is a reusable air-launch vehicle powered by six Boeing 747 engines that can carry payloads of up to 500,000 lbs. At 385 feet, its wingspan is the world's largest. In comparison, a National Football League field spans 360 feet. The aircraft is being designed to air-launch rockets into orbit.
"At one time, it was a big deal to cross the ocean in a wooden vessel," Thornburg says. "Once it became routine and people weren't risking their lives significantly to cross the ocean, we were able to make incredible discoveries."
Thornburg always had a strong interest in technology, and like a lot of other kids, he dreamed of a job at NASA.
"When I was a kid, my mom bought a set of encyclopedias with an annual science yearbook subscription," Thornburg says. "As geeky as it sounds, every year this book would arrive and I would just drive through that thing."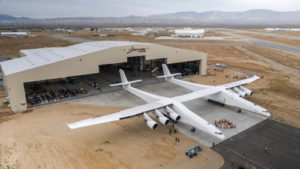 Thornburg learned about the build-up to the first space shuttle launch as well as the history of the space program and the first Mercury, Gemini and Apollo launches.
"It really had a strong impact on my career interest in space exploration," he says.
Thornburg spent the first 20 years of his career in rocket engine development and learning how to operate launch vehicles with the Air Force, NASA and SpaceX. "Those were incredible learning experiences for me," he says.
He plans to spend the next 20 years pushing the boundaries of space exploration, both at Stratolaunch and with Interstellar Technologies, an R&D company he founded to develop new launch vehicles and rocket propulsion technologies.
"With current technology, it takes four to six days to get to the moon, and it's a nine-month trip to Mars," he says. "What do you do with someone who is just sitting in a chair in a very small can on a six-day ride to the moon? Then talk about a nine-month trip to Mars. We really have to cut that time down and then focus on exploration. I want to see explorers reach further into the solar system within my lifetime."
Typical of the Star Trek and Star Wars culture he grew up in during the 1980s and early '90s, Thornburg jokes that everyone who is a propulsion engineer wants to be Scotty from Star Trek. "I was never any different," he says.
"We're right on the edge of something really powerful here with the ability to provide a business model that shows commercial space access companies can be successful," Thornburg says. "Our children and our grandchildren will be able to take trips into space for tourism, science or jobs. It really makes for a very exciting future." π