Following opportunity wherever it may rove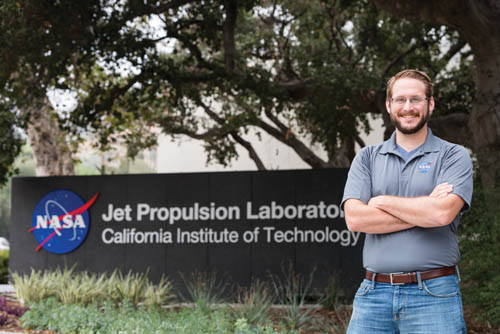 Michael Bouchard's interest in Mars — and Mars rovers — didn't end when he left Rolla.The Mars Rover Design Team founder, now a Ph.D. student at Washington University in St. Louis, recently wrapped up his second summer interning at NASA's Jet Propulsion Laboratory (JPL) in Pasadena, Calif. JPL is where NASA builds, operates and monitors its rovers. "It is the place for Mars exploration," says Bouchard, GGph'14, "and we are in the golden age of robotic exploration of Mars. It's pretty incredible."
As a systems engineer, Bouchard worked on subsystems for the next generation of rovers, which NASA plans to send to Mars in the next decade. But every Monday, Wednesday and Friday, he also works with rover Opportunity's science and operations teams to analyze the latest data from Mars and to help plan the rover's next tasks.
Now back in St. Louis, Bouchard continues to join the thrice-weekly meetings via Skype or WebEx. The sessions benefit Bouchard as much as they do NASA, as the data he analyzes are relevant to his specialty: the lithology, or physical and chemical properties, of volcanic Martian rocks from the region Opportunity covers.
It's quite a leap from the basement of S&T's former Rayl Cafeteria, where Bouchard and some fellow students first met in January 2012 to hatch the idea of creating a new design team. They spent that semester working on the paperwork — the bylaws, constitution and organizational structure — and, because "some of our engineers were getting restless with meetings and writing a constitution," building a small remote-controlled machine as a prototype.
By the time 2013 rolled around, the team was official and ready to rove in its first University Rover Challenge. The team finished dead last.
But not every rookie season is sensational. The students learned from past mistakes and improved year by year. Today's championship team is grateful for pioneer predecessors like Bouchard, whom they invited back to campus last spring to speak during the group's annual banquet. Who knows? Maybe Bouchard's pep talk will inspire other S&T students to set their sights even higher.