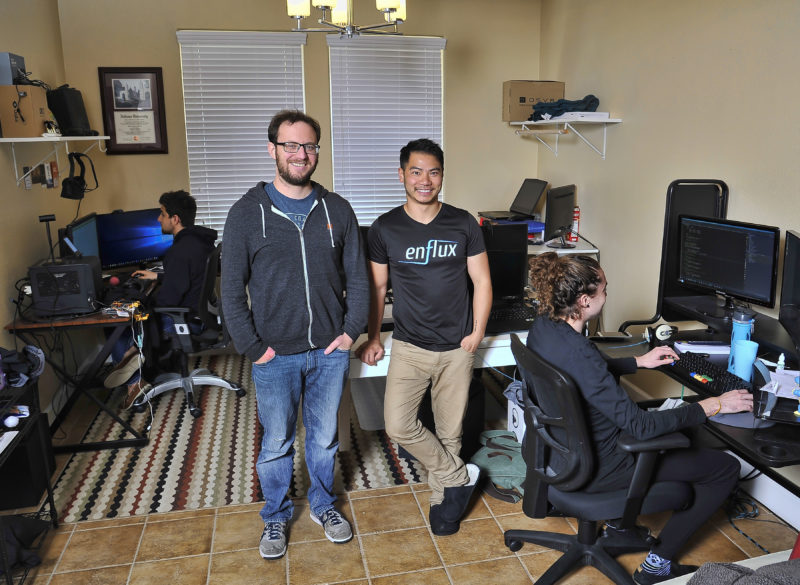 Inspiration can come from the unlikeliest of places, even in the middle of a Chicago street.
"I got hit by a bus," says Doug Hoang, ME'10. His arms, shoulders and elbows sustained injuries in the 2012 accident. "I went through physical therapy, and I knew it could use a lot of innovation."
Inspiration led to innovation, and the idea for Enflux — a line of athletic wear with sensors to track and record a user's movements — was hatched.
Hoang was developing engines for Power Solutions International at the time of the accident, but he left in December 2014, cashed out his stock options and plunged full time into getting Enflux up and running. Investment also came from Y Combinator, a Silicon Valley business accelerator known for investing and jumpstarting billion-dollar startups like AirBnB and Dropbox.
In mid-March 2017 Hoang returned from a month-long, jetlag-inducing trip to China to secure development and distribution chains. Partnerships in China, Cambodia and South Korea produce the clothing, and he says Enflux has $14 million in purchase orders.
"What sets us apart is we're much more cost-effective than all other competitors," Hoang says.
It isn't just athletes who use Enflux clothing to improve their workouts. The clothes also have applications in physical therapy, film animation, gaming and virtual reality products.
Matt Brown, ME'09, leads a team that develops the software for those applications. "Overall, I keep my thumb on the pulse of where the business is going and try to figure out what code is needed to support that," he says.
Brown was visiting former roommate Elijah Schuldt, AE'10, EE'10 and Enflux's chief technology officer, when Hoang recruited him to write algorithms for the company. Hoang and Brown were lab partners at S&T in Mechanics of Materials, and although Brown had a good job with an oil and gas company, he left to join Enflux. "Being in a startup seemed like a worthwhile challenge," he says.
Apple, Microsoft and Ford Motor Co. were all startups at one point. They didn't stay that way, and that's the way Hoang wants San Francisco-based Enflux to be.
"We want to keep growing and be a huge company," he says.