Lecture series brings chemistry grads full circle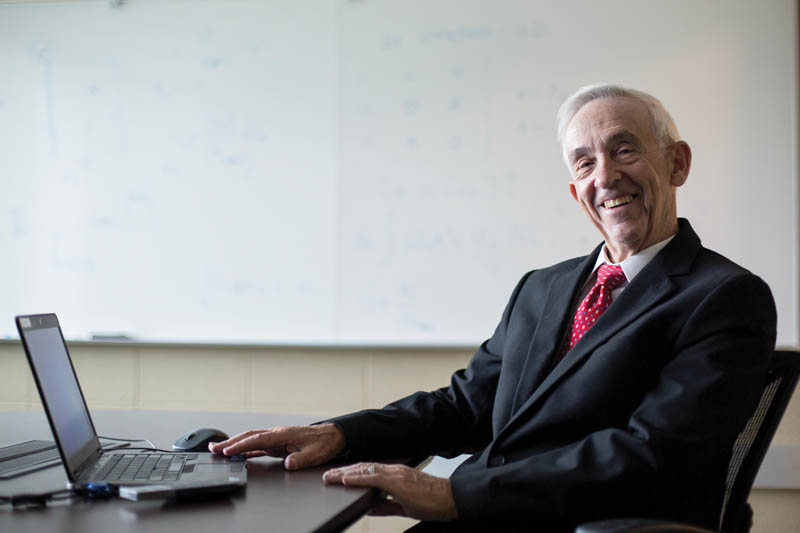 James O. Stoffer wanted to give Missouri S&T students a chance to learn from eminent scholars and innovators in polymer chemistry and related areas. So last fall the Curators' Distinguished Professor emeritus of chemistry established a lecture series to showcase his former students and inspire current ones.
"I wanted to invite alumni back to talk about what they have done as an encouragement to students to see what's possible," says Stoffer, a pioneer in polymer synthesis who holds 15 patents in various areas of polymer chemistry. "I've had very successful students who have gone out and accomplished something for the university, so I decided in this way to bring them back."
Janet Kavandi, MS Chem'80, gave the inaugural talk in the series. Kavandi, director of NASA's John H. Glenn Research Center in Cleveland, Ohio, an astronaut and veteran of three space flights, was one of Stoffer's graduate research assistants and worked with him on her master's project. She credits Stoffer with preparing her for her career with NASA.
"He's a wonderful human being," Kavandi says of Stoffer. "It was a pleasure and an honor to work with him. When I first arrived at Missouri S&T, I pretty much knew nothing about advanced research. He was a great mentor."
Kavandi says she was surprised and honored to be chosen as the first speaker in the series. She says that what Stoffer is doing with his lecture series is important in inspiring and encouraging the next generation of scientists, engineers and, of course, astronauts.
"It's important to do things like this so that today's students see that there is a path forward," Kavandi says. "Given the right opportunities and the right mentors, you can go out and do some pretty amazing things with your life. Being able to come back (to S&T) and share with the current students helps to make it more real."
The lecture series was funded through a $50,000 gift from Stoffer. The funds are from royalties from Stoffer's patent for an environmentally friendly chrome-free paint that is used on all military aircraft. S&T matched that gift with an additional $50,000 in patent royalties.
The next lecture in the series will be held this fall. The featured speaker will be chosen by the selection committee, which consists of Jay Switzer, the Donald L. Castleman/FCR Endowed Professor of Discovery in Chemistry, Tom Schuman, professor of chemistry, and Stoffer.