Glass pioneer: S&T grad's wound care research is now available on the commercial market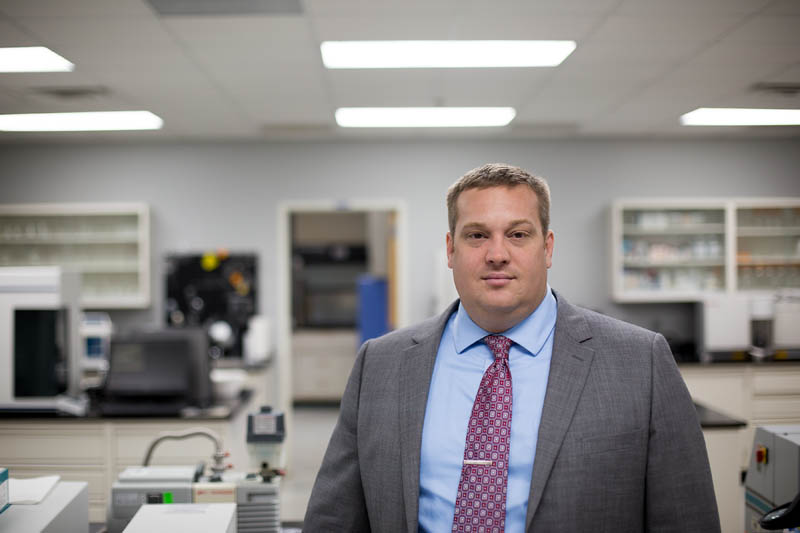 Minutes from the Missouri S&T campus, a global center of specialty glass manufacturing sits in a nondescript industrial park just past an Interstate 44 truck stop.
Mo-Sci Corp. got its start in 1985, when then-S&T professor Delbert Day formed a spinoff company to manufacture TheraSphere, irradiated glass beads used to treat inoperable liver cancer.
Day, CerE'58, the co-inventor of TheraSphere, is long retired from Mo-Sci, having sold the company to his son, Ted, a decade ago. But thanks to a late-career encounter with a determined freshman in an introductory ceramic engineering class, Day's legacy persists at a company that has grown into a worldwide manufacturer that now reaches into the health-care, automotive, energy and aerospace industries.
That freshman, Steven Jung, parlayed his first-year encounter with Day into a summer job at the decorated professor's lab. It would be the beginning of a 10-year academic alliance for Jung, CerE'05, MS CerE'07, PhD MSE'10.
Forget about any other destinations. Immediately after graduation, it was next stop, Mo-Sci.
"I did my dissertation defense on a Thursday," says Jung, who joined the company as a senior research and development engineer and is now chief technology officer. "And I started here on the following Monday."
The road to ceramic engineering
Jung came to Rolla in 2000 from Freeburg, Ill., a town 30 miles southeast of St. Louis. He spent two years as a varsity Miner swimmer before deciding to more fully focus on academics.
"At some point you're not going to make the Olympics, right?" says Jung, who competed as a sprinter in butterfly, breaststroke and individual medley events.
By Jung's first year, Day had mostly stepped aside from teaching undergraduates and mentoring graduate students, though he maintained an active glass research lab. But savvy talent scout that he is, Day insisted on continuing to teach what was then known as Ceramics 90.
"That allowed me to see the undergraduates at an early level," Day recalls. "Otherwise I wouldn't see them until their junior or senior years, when those interested in graduate school would be tied up with another faculty member."
Though he would become a Day protégé with 15 U.S. and foreign patents to his name before even leaving campus, graduate school didn't initially interest Jung. He changed his stance after an eight-month co-op with Kohler Co., realizing that the path to management often involves an advanced degree or two.
Once in grad school, a one-year internship at the Savannah River National Laboratory in South Carolina led him to the next obvious step in pursuit of a doctorate.
Jung and Day decided to collaborate on research into the effect of borate-based glasses on soft tissue, the next frontier for a technology that began with the use of silicate-based bioactive glasses to repair bones, bolster orthopedic hardware and enhance dental care.
Turning to his mentor's one-time company to take his ideas to market was an obvious step, according to Jung.
"What we ended up doing here got Delbert's son, Ted, excited," he says. "They decided to hire me and see how far we could take this stuff.
"I didn't interview anywhere else. I knew that we were going to commercialize the majority of my research. Why would you want to go anywhere else?"
Seven years later, a dissertation that took root at Missouri S&T's Graduate Center for Materials Research and the Center for Bone and Tissue Repair and Regeneration has developed into Mirragen, a "bioresorbable" bandage made from glass that simultaneously promotes soft tissue growth. Mo-Sci licensed the technology from S&T in 2011.
It's a medical products innovation that Jung, Ted Day and the Mo-Sci spinoff Engineered Tissue Solutions are betting could transform an advanced wound care market that by some estimates could soar to a $15 billion industry by 2020.
In August 2016, the U.S. Food and Drug Administration approved Mirragen (previously known as DermaFuse) for human use to treat several types of persistent wounds, including bed sores, pressure ulcers and chronic, non-healing diabetic wounds.
The governmental approval follows a clinical trial at Phelps County Regional Medical Center (PCRMC) in Rolla in which dozens of patients with diabetic and venous statis ulcers and bed sores showed more rapid healing, with the improvement at times apparent within days of treatment.
"People who were looking at having amputations didn't have to lose their limbs. Wounds that wouldn't heal or would otherwise take months to heal were doing so in relatively short periods of time," says Jung.
"Not only will (the bioactive glass fibers) heal wounds, it will stop bleeding," he adds. "It's a fantastic hemostatic material."
Peggy Earl, a PCRMC wound care nurse, described one patient with an 11-centimeter wound shaped like a "strip" on the back of her leg. By the patient's next visit several days later, the wound had shrunk to one-third the size as Mirragen's fluffy fibers — which have the consistency of cotton-candy — worked to generate healthy tissue.
"What I was seeing is that it would build tissue very quickly in the wound bed," she says. "We're going to see healing happen at a rate that exceeds that of other products. It's not like anything else on the market."
A similar product, Rediheal, also stemming from Jung's research at S&T, has been successfully used by veterinarians for the past three years to heal major wounds in animals.
In early April, Jung and the ETS team traveled to a wound-care industry event in San Diego to unveil their new technology. That was followed by a trip to promote the technology in South Korea before rounding out the month at the annual Ceramics Expo, a manufacturing trade show for ceramic materials and technologies in Cleveland.
While starting out with a soft product launch, the Mo-Sci team hopes that Mirragen will one day be used by battlefield medics, or even move from a specialized medical device to an over-the-counter product suitable for household medicine cabinets.
Yet despite its immediate and long-term promise, the wound care product is far from Jung's only workplace project. As CTO and in his former role as Mo-Sci's director of new product development, Jung has his hand in dozens of different to-do lists at any given time.
"We're always trying to come up with new types of glass products to offer," he says. "Part of what we do in R&D is on the research side, come up with something nobody is doing, and on the development side, make it profitable to offer that service."
The impact of relationships
Away from work, Jung stays occupied as the father of two sons, Benjamin and Barrett, ages 3 and 1. He met his wife, Rachel Jung, MBA'09, a Miner Alumni Association board member, while both were in graduate school.
He's also a member of the Rolla City Council, deciding to run as a write-in candidate in April 2015 after no candidates filed to represent the city's sixth ward on the council. Jung was unopposed for a second two-year term on the council and won re-election in April.
Jung will also teach on campus this fall as an adjunct professor in the materials science and engineering department, where he will lecture on his specialty: biomaterials and tissue engineering.
"This is an exciting new endeavor to bring a commercial flavor to the biomaterials activities already occurring on campus," says Jung.
For Delbert Day, the continued success of perhaps his most accomplished graduate student is an accomplishment the 80-year-old Curators' Distinguished Professor emeritus calls a career highlight. That's no small feat for someone who is the university's only member of the National Academy of Engineering, a recent inductee into the National Academy of Inventors and a civic leader whose name graces the new Delbert Day Cancer Institute at PCRMC, where his son, Ted, chairs the charitable foundation.
"I put a great deal of importance on the quality of my graduate students and my teaching," Day says. "Early in my career I began thinking, 'What's my output?' I decided that I wanted to base my career, to be judged, on the accomplishments of my students, like Steve, as opposed to be judged primarily on the quality and volume of my technical articles and publications.
"People encounter my former students — my output — a whole lot more often than they might read a technical article on glass research," Day says. "Steve's accomplishments, and those of many other of my students, teach me that I made the right choice."