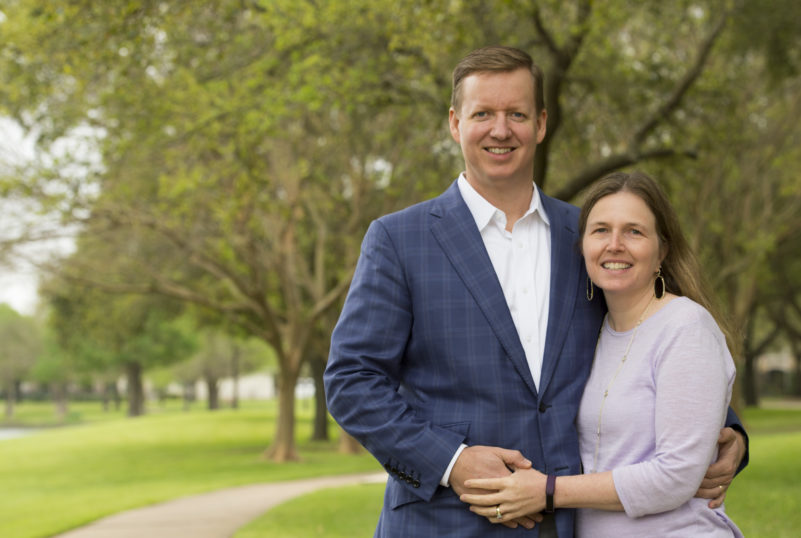 David Heikkinen, ME'93, and Dr. Ann Rueff Heikkinen have deep Rolla roots. They met as students at Rolla Junior High School, and their mothers both worked for Missouri S&T. Virginia Heikkinen Callahan, Hist'88, worked in admissions and Chris Rueff in career services.
When it came time for college, Ann majored in chemistry at the University of Missouri-Columbia and David enrolled at S&T as a petroleum engineering major. A summer internship prompted him to change majors. "After working in west Texas with the rattlesnakes and tarantulas, I switched to mechanical engineering," he says.
David joined Shell Oil in New Orleans after graduating and earned an MBA from Tulane University. Ann earned a master's degree in nutrition at Louisiana State University before attending LSU School of Medicine, graduating in 2002. She is now a family physician in Houston.
"Ann and I have known each other more than 30 years, and we've been married for 23 years," says David. They have 9-year-old triplets: Charlie, Grace and Joe.
David transitioned into oil and gas investment research in 2000 when he joined Southcoast Capital. Five years later, he met Rolla graduate Dan Pickering, PetE'88, also an energy investment analyst. The two found they had a lot in common, from Missouri upbringings to industry experience.
In 2005 after Hurricane Katrina, David joined Dan's company, Pickering Energy Partners, which grew to become Tudor, Pickering, Holt & Co. "Dan was the best in the business at oil field services, and I was an up-and-comer in exploration and production," says David. "We made a great team."
David left the company in 2012 and took time off. "I had a window before our triplets started kindergarten," he says. During his sabbatical, David hosted a meeting with a group of friends in the industry. "The lightbulb went on that these people were really good at what they do, and that's when Heikkinen Energy Advisors was born."
Today the company provides research and consulting services to energy investors and companies. And the Heikkinens have stepped forward with a philanthropic investment in Missouri S&T. Their $250,000 gift will support the S&T chapter of Engineers Without Borders (EWB).
"Rolla played a key role in what happened for Ann and me," says David. "We wanted to give back, and the compounding possibilities of the EWB challenge appealed to us. If our contribution touches 20 students in EWB, and those 20 students touched 10 or 100 people with each project, then we have touched the lives of 200 or even 2,000 people. And that can happen for years to come."