Sandra Magnus: Space sojourner and super role model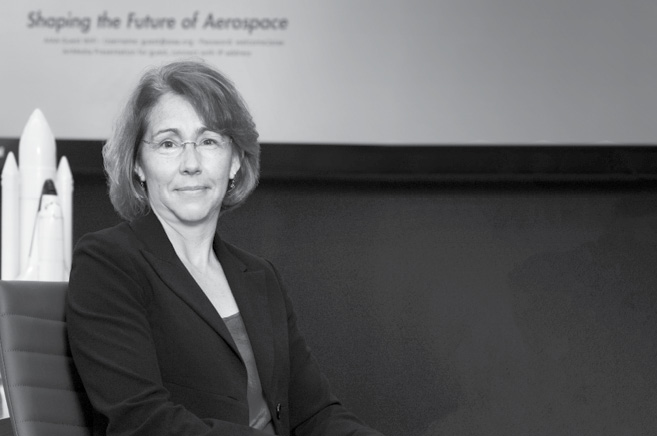 For a woman who flew three space missions, including a four-month stint aboard the International Space Station conducting experiments, installing structural upgrades and blogging about it with children, Sandra Magnus, Phys'86, MS EE'90, is low-key about her legacy.
"I don't think we know what our greatest contributions are," says the former NASA mission specialist who now serves as executive director of the American Institute of Aeronautics and Astronautics. "I'm just hoping at least one young person I interacted with along the way was inspired to achieve a dream."
Last year, Magnus got her answer, when a young fan circled back as a college senior to say thanks.
"I was the guest speaker at a senior banquet at the University of Maryland," Magnus says. "After dinner, a young woman came up to me with a letter I wrote to her when she was 7. That was a special moment, especially since she was graduating with a degree in aerospace engineering."
Magnus flew her first mission to the International Space Station in 2002 aboard the space shuttle Atlantis. She returned to the space station in 2008 for a four-month assignment as a science officer — and an inspiration to hundreds of children through her "spacebook" blog hosted by Missouri S&T. She made her last flight in 2011 as one of four crew members on the final journey of Atlantis, the mission that closed the book on NASA's shuttle program.
"I was lucky because the whole arc of my career was spent in an international environment," says Magnus, who holds a doctorate from Georgia Institute of Technology. "The NASA class of 1996 was the start of a transition. We were the International Space Station group."
"I was lucky because the whole arc of my career was spent in an international environment."
Magnus has witnessed the transformation of the space program from the Cold War tension of her childhood to the international cooperation of her years as an astronaut. Now she is intrigued by the future of space exploration in the private sector: "It will be fascinating to see how the commercialization of space evolves and changes the industry."
She continues to mentor future generations of scientists and engineers — and to make a difference at Missouri S&T. She visits campus to talk with students, and she supports the Kummer Student Design Center, the departments of physics and electrical and computer engineering, and athletics (Magnus was an intercollegiate soccer player).
Although she doesn't spend much time beyond the reaches of gravity anymore, Magnus still enjoys a good space film. The Martian is her favorite for sentimental reasons. "It's the only film that made me homesick for space," she says.