Mun Y. Choi named next UM System president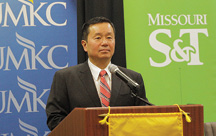 Mun Y. Choi, provost and executive vice president at the University of Connecticut, will become the 24th president of the University of Missouri System on March 1.
"As a product of and passionate champion for public higher education, I will advocate tirelessly on behalf of our exceptional institutions with state and national business, political and civic leaders to achieve excellence in all that we do, and make sure our great campuses realize their full potential," says Choi.
Born in South Korea, Choi came to the U.S. as a child. As a young man, he worked in his family's business in Chicago, and graduated from the University of Illinois at Urbana-Champaign with a bachelor's degree in general engineering in 1987. He later earned master of science and Ph.D. degrees in mechanical and aerospace engineering from Princeton University.