Matt Coco: True and tireless believer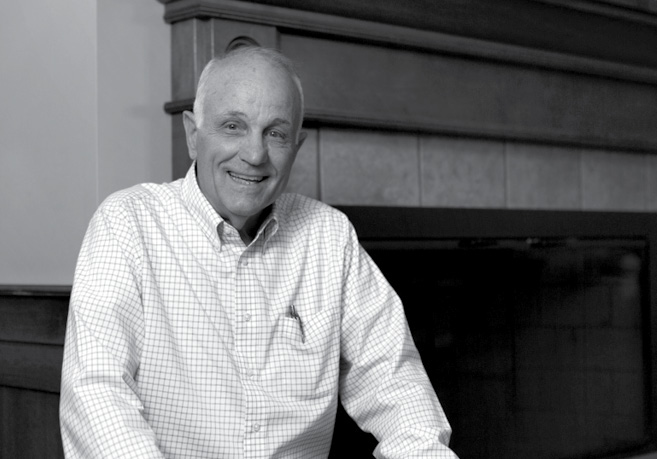 Matt Coco, CE'66, was a student the first time he served on the Phi Kappa Theta building committee after a fire destroyed his fraternity house in 1964. "I wanted the new house to have a red brick exterior and a fireplace," he says. "I didn't get either."
Fifty years later, as the volunteer project manager overseeing the construction of Phi Kappa Theta's current campus home, he got both.
Things have a way of coming full circle for Coco. He has a cookie story to prove it.
"It was a party weekend on campus, and I asked a girl from St. Louis but she couldn't make it," says Coco. "Friday night I was out with friends, and when we returned to the house, there was a girl sitting on the steps. She said she had a box of cookies to deliver to Matt Coco."
The cookies were from the girl he'd invited to be his date. But it was the courier who turned out to be his destiny: they were married a few years later.
Today, the Kathleen and Matteo Coco Great Room in Hasselmann Alumni House bears the names of the couple those cookies brought together. The Miner Alumni Association named the room in recognition of Coco's extraordinary service on the largest project in association history, Hasselmann Alumni House.
Coco spent more than two years involved in every detail of the undertaking, from fundraising and land acquisition to design and construction. In March 2015, at a standing-room-only dedication ceremony, the alumni association announced its naming gift honoring Coco and his late wife.
"Many individuals put their heart and soul into this project, but Matt made it his full-time job — without any compensation except our gratitude," said Miner Alumni Association Executive Vice President Darlene Ramsay, MetE'84, speaking to the packed house. "He oversaw every detail of this monumental project as if it were his own home."
To anyone who knows him, it was classic Coco.
After graduating from Missouri S&T with a civil engineering degree, Coco joined St. Louis-based Alberici Constructors and went on to a 40-year career with the company, working on hundreds of projects across the United States.
"I've built everything from rocket plants to a hockey rink," says Coco, a former alumni association president and S&T trustee who retired from Alberici in 2006 as vice president of the building division. "I enjoy the construction process, especially industrial construction because you have to make sure something works."
Coco's enthusiasm for making things work is matched by his commitment to making a difference, whether as a member of the Academy of Civil Engineers, a scholarship donor or a fan cheering at a Miner football game.
"You've got to pay it back, to thank the person ahead of you and to set an example for the person behind you."
 "You've got to pay it back, to thank the person ahead of you and to set an example for the person behind you," says the guy who hasn't missed a Homecoming weekend in 50 years.