In the swim of things: Engineering student competes in Olympics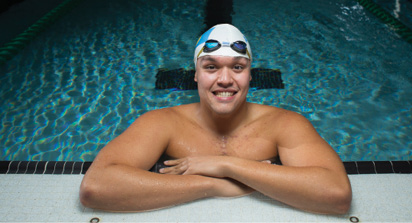 For as long as he can remember, Shawn Wallace has loved the water, and swimming is his favorite pastime. This past summer, that pastime took him to the 2016 Summer Olympics in Rio de Janeiro.
Wallace began swimming competitively at age 8 as part of a neighborhood summer league in his Houston hometown. He joined Houston-based Alief Aquatic Club when he was 10.
"I always liked swimming," says Wallace, a senior in civil engineering at Missouri S&T. "My mom always told me that if I wanted to compete, I should just go for it. Obviously I kept it up."
Wallace has lived in Houston since he was 6, but he was born in the island nation of Palau, a series of over 500 islands in the Micronesian region of the western Pacific Ocean.
Wallace joined the national swimming team in Palau in 2011. He holds three Palauan long-course records: the 50-meter and 100-meter freestyle and the 50-meter butterfly. He also holds a short-course record in the 200-meter freestyle.
"Around 2010, I was a spectator at the Micronesian Games, and a very good coach I know introduced me to the team," Wallace says. "He told the coaches he thought I could do great things for Palau." Wallace showed Palau's coaches what he was capable of, and the team invited him to compete in the World Championships the following year. His first international competition was in Shanghai.
"Since then I've been to five world championship meets," Wallace says. Between competitions and training trips, swimming has taken him to Guam, Japan, Spain, Turkey, Qatar, New Zealand, the Federated States of Micronesia, Papua New Guinea, Russia, Fiji and, of course, Brazil.
Wallace swam the 50-meter freestyle in the 2016 Summer Olympics in Rio and set a personal best time — and a national record for Palau. His time of 26.78 seconds, even though it is a record in his home country, was not fast enough to qualify for the Olympics. Instead, he entered under a Universality place.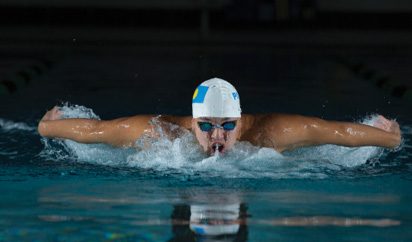 Typically, a country can enter two qualified athletes for each event. However, countries that have no swimmers who reach the qualifying standards can still enter one swimmer of each gender under the Universality clause. Wallace was chosen based on his results at national and international meets.
Palau's national team — which sent only two swimmers to the Rio games — is relatively small, especially compared to the U.S. team.
"We're a very small country," Wallace says of Palau. "The population of the entire country is only around 21,000 people. Swimming isn't as predominant a sport as in some other countries."
When classes are in session at Missouri S&T, Wallace, who is a member of Triangle fraternity, swims and competes with the Rolla Fins Swim Club. He is training with hopes of returning to Olympic waters in 2020.
Wallace hopes his fellow Fins swimmers — and any other athletes — follow their dreams.
"If you believe you can do it, you have to be disciplined," Wallace says. "You're going to have to make some tough decisions in your life that you may not like at the time — like training instead of hanging out with your friends. But it is all worth it. When you look back, you'll thank yourself for doing it."