During Homecoming, the Miner Alumni Association honored eight alumni and a faculty member for their accomplishments and their devotion to the association, the campus and its students.
Selected from an impressive list of nominees, the awardees received special recognition during the Miner Legends Luncheon.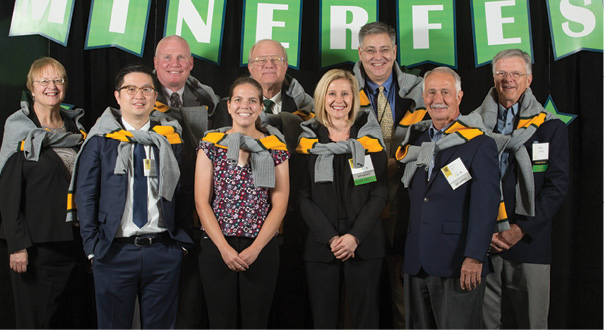 Pictured above from left are:
Pam

Leitterman

, Math'75, retired marketing program manager, Hewlett-Packard Co., Robert V. Wolf Alumni Service Award

Xiaoliang

Cheng

, PhD Chem'10, president, Wuhan Quality Life Technology Co., Distinguished Young Alumni Award

Craig

Barnes

, ME'78, retired executive director of technology strategy, Cummins, Alumni Achievement Award

Jillian

Beth

Schmidt

, assistant teaching professor,

mechanical and aerospace engineering, Class of '42 Excellence in Teaching Award

Bill

Kennedy

, president and CEO, Jack Kennedy Metal Products and Building Inc., Honorary Life Member Award

Katherine

Wasem

, MetE'99, vice president, G&S Foundry, Distinguished Young Alumni Award

Jorge Ochoa

, ME'85, principal engineer, Exponent Inc., Alumni Achievement Award

Thomas

Feger

, CE'69, special consultant, Hanson Professional Services Inc., Frank H. Mackaman Volunteer Service Award

John

Lovitt

, MS CSci'70, chief executive officer, Pattern Insight (retired); adjunct professor, Missouri S&T, Alumni Merit Award.