Robert Buehler: Mapping a path to success
When Garmin International Inc. opened its branch office at Missouri S&T's Technology Development Center in Innovation Park in December 2012, the company was simply looking for students interested in software engineering to take part in semester-long part-time internships.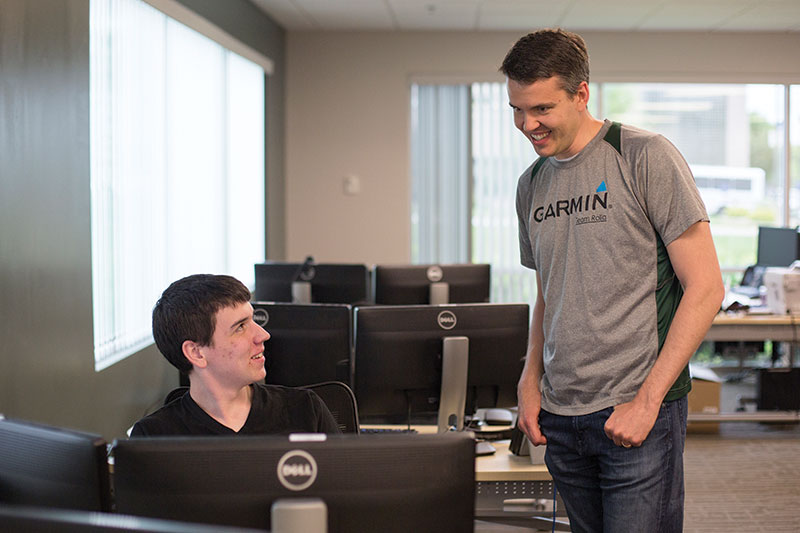 And where better to find engaged computer science and engineering students than at a university?
What the company did not predict was that Missouri S&T would focus the foundations of its undergraduate education on experiential learning.
Today, the office produces skilled employees for both Garmin and the industry at large. Interns help develop aviation and automotive products, including embedded software, verification testing and internal tools. They work hand-in-hand with Garmin engineers to develop innovative GPS products and technologies.
"Our interns are able to take what they learned in the classroom and apply it to solving real-world problems," says Robert Buehler, CSci'05, MS CSci'09, a software engineering team leader with Garmin and manager of the facility. "They are completing the same type of work that they would be doing if they were full-time employees. They work under very little supervision and are responsible for meeting the same deadlines as their team members."
Students work independently on various projects. They video chat with their respective managers, who may be in Garmin locations around the nation, to keep them informed of project statuses and any necessary changes.
Twenty-nine students have interned at Garmin's S&T location, some for just one semester and some for as long as five semesters. Many have gone on to be a part of Garmin's full-time staff.
"New employee positions are highly competitive, especially in the computing industry," says Buehler. "If you have one candidate with this type of hands-on learning that S&T is promoting, and one candidate who has simply completed coursework, you will hire the one with the more experience every time."
Robert Buehler (above right) has managed Garmin's software engineering facility on the S&T campus since it opened in December 2012.