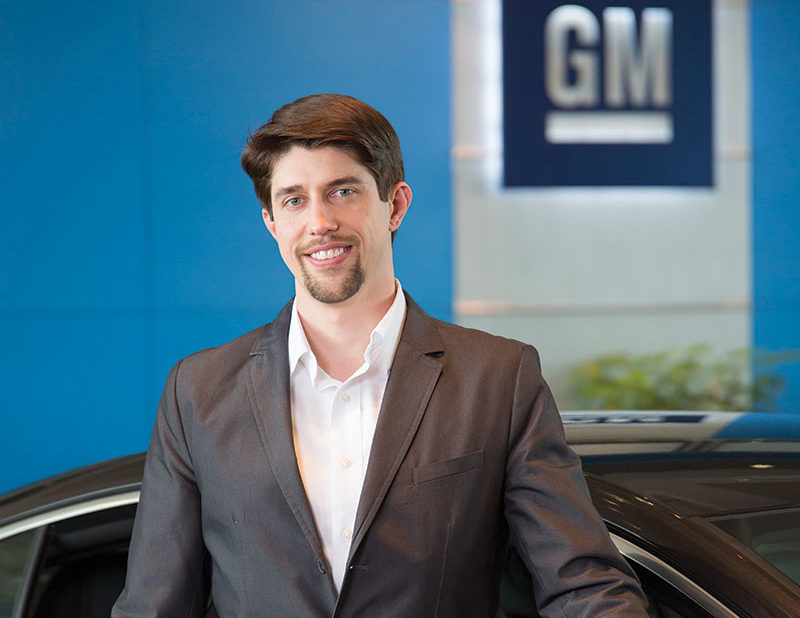 It was hot. Really hot. Desert hot. And Jason Nolte, ME'05, MS ME'07, was hot. Really hot. Desert hot.
As a driver for the Missouri S&T Solar Car Team in 2003, Nolte piloted Solar Miner IV for 220 miles from Kingman, Arizona, to Barstow, California, as it raced toward the American Solar Challenge title.
"The team really liked me a lot," Nolte says. "They gave me the leg through the Mojave Desert."
Their winning time when they reached the finish line in Claremont, California, was 51 hours, 47 minutes, 39 seconds, traveling 2,300 miles in six days — and nearly 5 hours faster than the runner-up.
Nolte parlayed that education and experience with the Solar Car Team into a fast-track career at General Motors, starting with three internships while he was at Missouri S&T. After graduation, he worked on Corvettes and helped create the battery and power electronics system controls on the Volt plug-in hybrid car. Along the way, Nolte worked on teams that had two patents granted and seven others applied for, and he won a "Boss" Kettering Award, the highest level of recognition for innovation and invention at GM.
The knowledge he gained on the Solar Car Team was instrumental in charting his career path.
"That set me apart — the hands-on, real-world experience," he says. "It helped distinguish me from the crowd when I talked to career fair recruiters and enabled career opportunities I would not otherwise be considered for."
After three years as a Solar Car Team member, he became the team's vice president, and in graduate school he became president. In the latter roles, he honed "soft" skills such as team development and operations to become a well-rounded engineer.
Training wheels
Nolte's infatuation with cars began early. When he was 14, he bought and restored a 1968 Mustang that became his high school car in Germantown, Tenn.
"I've been a car guy since fourth grade — at least that's what my mom tells everybody," he says. "I always had my head in car magazines."
His interest in the Solar Car Team began early, too, when he read about it in high school. So Nolte came to a Missouri S&T summer camp after his junior year and met the team. Before camp was over, he was "sanding away" on the solar car, making his choice of college a foregone conclusion.
"Mechanical engineering gave me a fundamental understanding of cars from the ground up and was a big benefit in my career," he says.
The Solar Car Team gave him an understanding of electrical, mechanical and battery systems — skills he has used at General Motors.
"I've pretty much had a parallel path from the Solar Car to all the work I've done at GM," he says. "Much like with the Solar Car, I got plenty of experience in those systems."
After his work on the Volt, Nolte put his mechanical engineering training to use in GM's performance line of current-generation Cadillacs — the ATS-V and CTS-V — and on the 2014–15 Camaro Z/28.
A new adventure
In October, Nolte left the drawing board and became an investment manager with GM Ventures LLC, the corporate venture capital arm of General Motors, drawing on the soft skills he honed in leadership roles with the Solar Car Team.
He's on a plane about every three weeks to meet with potential GM partners, seeking out investable companies with products or ideas that could help General Motors stay on the cutting edge of vehicle design and performance. Nolte's experience on the production and design side gives him valuable insight, he says, into what makes a good partnership.
If he identifies a company that works out, it's a victory for everyone involved.
"Venture capital investment is a way to drive innovation, in people, in companies, in technology," Nolte says.