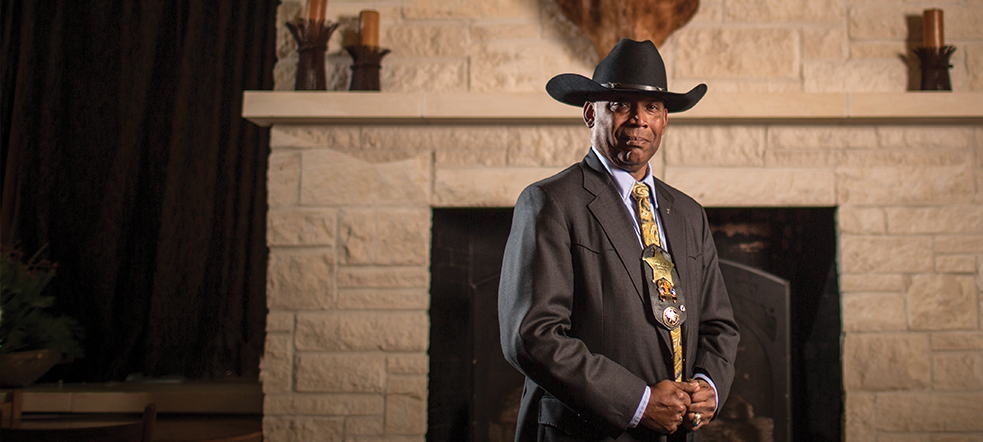 Eric Potts, CE'73, calls himself an urban cowboy. The Texas transplant and retired Army colonel has lived all over the world. But it wasn't until he landed in the Lone Star State that he learned to tell an Angus from a Charolais.
He owes it all to the Houston Livestock Show and Rodeo.
After retiring in 2000 from a distinguished military career, Potts became deputy director of aviation for the City of Houston. He credits his boss with involving him in Houston's biggest annual event — a 20-day extravaganza featuring the world's largest livestock show, a rodeo competition, star-studded concerts and more.
"He thought I'd be good at it, so I gave it a shot," says Potts. "I've learned more about cattle than I ever imagined."
For the past decade, Potts has served on the show's steer auction committee. This marks his second year to chair the 200-person committee.
"Last year the steer auction raised $5.6 million," says Potts. "Our grand champion junior market steer sold for $300,000. Proceeds support scholarships, so we touch a lot of young people's lives."
Founded in 1932, the Houston Livestock Show and Rodeo has committed more than $400 million to scholarships and educational programs. More than 2,200 students currently attend 80 Texas colleges and universities on show scholarships.
"The livestock show and rodeo is a whole bunch of things, but at the end of the day, it's about education," says Potts, who also champions Missouri S&T as a member of the Academy of Civil Engineers and Academy of Miner Athletics. He and his wife, Inge, are generous supporters of the civil engineering program, alumni association and
Miner athletics.
Today, as account director for Freese and Nichols, Potts spends a great deal of time in client meetings. But for three weeks every March, in keeping with the company's tradition of community support, the Houston Livestock Show and Rodeo takes over this executive's life — and a big cowboy hat becomes mandatory attire.
"After 27 years of moving every two or three years in the Army, I landed in Texas," says the St. Louis native. "It's the longest I've been in one place. I would call this home."