Coming full circle: John and Marie Eash
It isn't surprising that what attracted John Eash, AE'79, MS EMgt'90, to Missouri S&T as a student is exactly what brought him back 40 years later as an employee.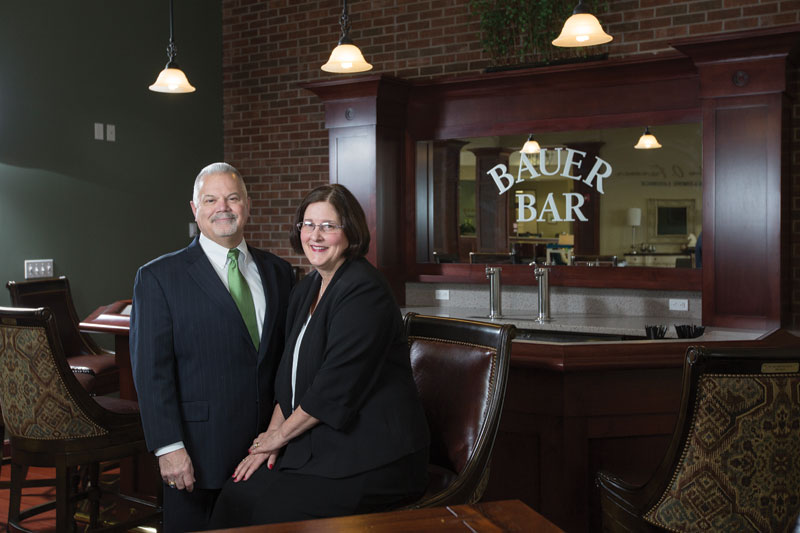 Because Eash has always believed in the power of partnerships.
That belief attracted him to S&T's co-op program as a high school senior. It drove his involvement as president of the Miner Alumni Association and Boeing's chief executive focal. And, ultimately, it brought him back to campus last August as the university's first executive director of corporate relations.
"My father, who was an engineer at McDonnell Douglas, learned about the co-op program at Rolla," says Eash. "We talked about what a great opportunity it would be — valuable work experience and a good salary while I was earning my degree."
The aspiring aerospace engineer decided to become a Miner. For five semesters, he gained experience working for McDonnell Douglas (now Boeing) through the co-op program. He joined the company full time after graduation and went on to a distinguished 36-year corporate career in flight test engineering, manufacturing, supply chain management and quality control.
"We hope to inspire future generations of Miners to feel the pride that comes with giving back."
But service was as important as success to Eash — and giving back to S&T was a priority. He joined the alumni association board and became Boeing's chief executive focal for S&T, a position focused on employee recruitment, research and development, and continuing education. Under his leadership, new initiatives blossomed: a student mentoring program, campus speaker network, Boeing Day at S&T and two milestones in 2014 — a master research agreement and Boeing office at Innovation Park.
Eash has now come full circle from co-op student to corporate liaison to campus leader. "The opportunity to lead a new corporate relations office has been the biggest — and most unexpected — milestone of my relationship with S&T," he says.
Meanwhile, Eash and his wife, Marie, are settling into life in Rolla and doing what they've always done: give back. They recently established a planned gift that will create endowments in support of three priorities near and dear to their hearts: the alumni association, mechanical and aerospace engineering department, and Miners by Design, the donor group that supports S&T's 14 student design teams.
"Missouri S&T has been a huge part of our lives for many years," says Eash. "We hope to inspire future generations of Miners to feel the pride that comes with giving back."
John and Marie Eash at the Bauer Bar in Hasselmann Alumni House. The Eashes supported the alumni house by naming one of the barstools in the Bauer Bar.