One of the biggest moments of Tamerate Tadesse's life came in a cab.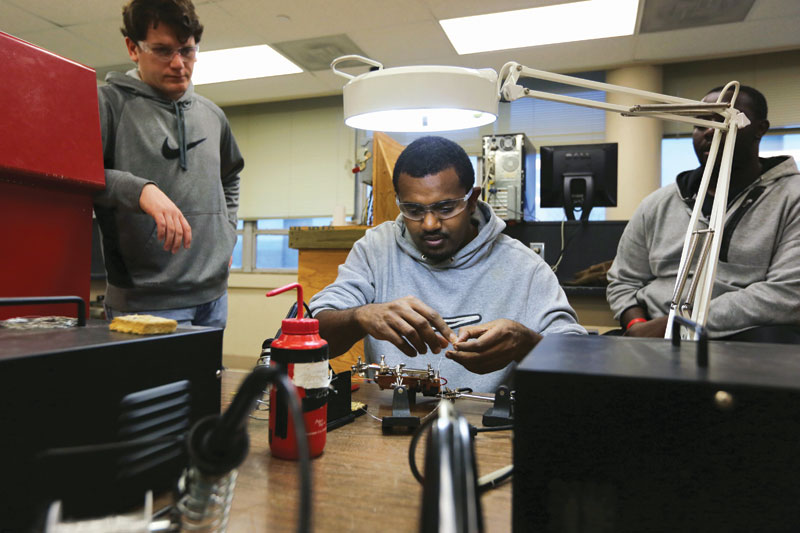 Tadesse, EE'15, a native of Ethiopia, took a job as an airport taxi cab driver after settling in the St. Louis area. His English was not very good, so he practiced by talking to his passengers.
"I like to talk to people, I like to ask questions," he says. "I'd ask them, 'How was your flight?'"
"Something clicked in my mind. It was kind of a miracle for me."
So began a conversation with Peter Desloge, chairman and CEO of Watlow Electric Manufacturing Co., whom Tadesse was driving to his Wildwood, Mo., home.
Desloge noticed Tadesse had rigged up his personal laptop to an old adapter to charge it while he was driving. "It was kind of noisy," Tadesse says.
Intrigued, Desloge asked about Tadesse's hobbies and his plans for the future. Tadesse, who was taking classes to learn English, shared that even as a child, he had always enjoyed fixing things, especially electronics.
"I encouraged him to think about engineering," Desloge says. "I shared with him my experience as an engineer. I told him it is a great field because you will always be challenged and there will always be a demand for engineers."
Before he got out of the car, Desloge handed Tadesse his business card and said, "Just give me a call whenever you can."
The experience inspired Tadesse to continue his education. "Something clicked in my mind," he says. "It was kind of a miracle for me."
Now, some five years later, Tadesse still keeps Desloge's business card in his wallet for good luck.
"I was pleased to find out that he took my advice," Desloge says. "It reminds me that we all have a chance to have a positive impact on others every day of our lives — even in a brief encounter in a taxi."