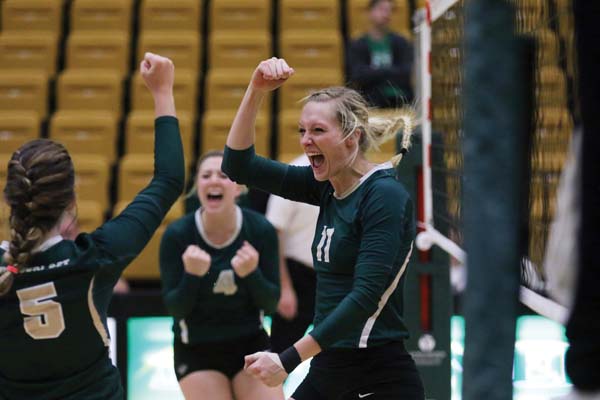 Krista Haslag, a senior on the Missouri S&T volleyball team, knows a thing or two about competing. The 6-foot-1 senior from Linn, Mo., racked up 18 kills one mid-November weekend to become the university's all-time leader in career kills. Haslag finished the season with 1,269 kills. (Erin Bekebrede, Psyc'12, who played for the Miners from 2008–11, held the previous record of 1,243 kills).
"I remember looking at my statistics last year and thinking that I am going to have to have a big season to reach that goal," she says. "I just go out and play the best that I can every game so I can help my team win."
Coach Jason Holt credits Haslag, Gracey Moon and Jackie Pyles, the team's three co-captains, with providing the leadership and determination to help the team go undefeated at home — the first time a team has done so in the program's history. The feat helped earn the team a postseason spot for the fifth season in a row.
"Krista is one of our top players on the roster — not only this season, but in the history of our program," says Holt, who started the volleyball program from scratch nine seasons ago. "She is one of the leading and most-feared hitters and blockers in the Great Lakes Valley Conference."
Growing up, Haslag's number one sport was basketball. In fact, it wasn't until high school that she started playing volleyball competitively for the Central Missouri Volleyball Club.
"There's no better feeling than getting a stuff block," Haslag says. "A stuff block at a crucial time in a game is a huge momentum changer, and the excitement after a game-changing block is very unreal."
The student-athlete, like her teammates, takes her coursework just as seriously. For the past six years, the volleyball team has earned Academic Team Honors from the American Volleyball Coaches Association for keeping a team GPA of 3.3 or higher. Recently, Haslag became the fourth player to earn College Sports Information Directors of America (CoSIDA) Academic All-District honors. It was the third time she has received the recognition.
"Academics has always been a huge part of my life and I wanted to go to a college that I knew would prepare me for the real world and leave me with a bright future," says Haslag, a double major in civil and architectural engineering. "I have always been a very hands-on kind of person, which led me to the
engineering field."
Krista Haslag, a senior from Linn, Mo., celebrates with her teammates after the S&T volleyball team defeated the University of Missouri-St. Louis on Oct. 3.