Dave Bayless: the power of leadership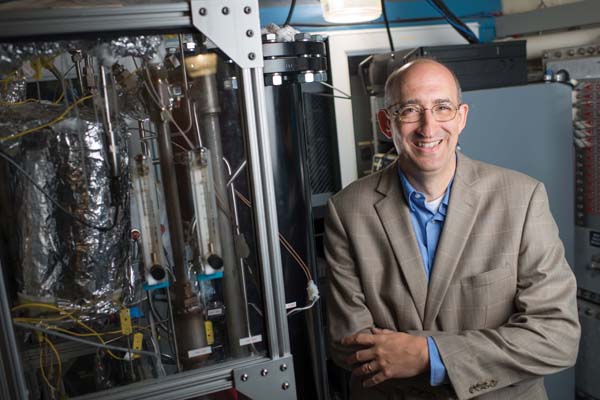 The oil crisis of the 1970s ignited Dave Bayless's passion for energy. A few years at the Naval Power School in the late 1980s opened up an interest in teaching. And multiple entrepreneurial experiences fueled a new cause — integrating leadership education into engineering education.
A fellow of the National Academy of Inventors, Bayless, ME'87, credits Virgil Flanigan, ME'60, MS ME'62, PhD ME'68, professor emeritus of mechanical and aerospace engineering at Missouri S&T, and his advisors at the University of Illinois, the late Jim Peters and Richard Buckius, with sparking his interest in research.
"I realized you can teach and do really cool things, and it reinforced that I wanted to be a professor," he says. "It's not for everybody, but I just have a blast. Where else can you basically do what you want to do all the time and be around young people who are eager to learn and want to solve problems?"
Bayless currently directs the Robe Leadership Institute at Ohio University, where he also serves as the Loehr Professor of Mechanical Engineering and director of the Ohio Coal Research Center.
"The institute helps engineers develop their leadership skills," he says. "No matter how brilliant an idea is, it takes a champion to fight the fight. Most engineers coming out of school don't have that."
Nearly four years ago, Bayless and another member of the American Society for Engineering Education (ASEE) started a new leadership division within the organization. Today, the group has more than 700 members.
"It's really developed a life of its own," he says. "It's not a fad. It's something that engineers need to learn. In 20 years, it will be like calculus. At least that's my vision."
Bayless says his career success reflects an ability to both solve technical problems and convince others to implement his solutions.
"It's really strange from my perspective because I'm not a creative person," he says. "I don't have great musical ability or grand visions. However, I can apply basic engineering skills and problem-solving to things that have a commercial value — there's never a lack of problems in the energy field."
Responsible for more than $18 million in externally funded research, Bayless holds five U.S. and 25 international patents, with 13 applications pending, and has authored more than 60 peer-reviewed publications. He is co-founder and president of ECO2Capture Inc., an Athens, Ohio, start-up company that patented technology to capture carbon dioxide for use in algae commercialization.