Karl Hasselmann: the man behind the name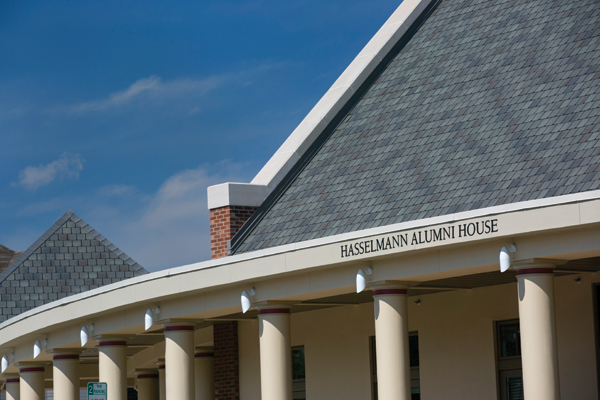 The story of how Hasselmann Alumni House got its name begins in 1921, when a tall Iowan enrolled at the Missouri School of Mines.
He excelled as a student, lettered in football and track, and got his first taste of the oil industry working one summer on an Oklahoma drilling rig.
After graduating, Karl Hasselmann, MinE'25, joined the California Co. as a field geologist and then became chief geologist for Sinclair Exploration Co., where he was responsible for oil prospecting in Austria, Hungary and Germany. While working in Europe, Hasselmann began researching how to use gravitational survey methods to locate offshore oil — and he met and married an American vacationing abroad, Marjory Nell Meyer.
Hasselmann returned to the United States in 1933, founded Houston-based Salt Dome Oil Corp. and began looking for oil in the Gulf of Mexico. After detecting a likely source in Galveston Bay, he drilled. In February 1938, Salt Dome Oil, in partnership with Standard Oil Co. of Texas, discovered one of the first oil pools in the Texas Gulf — a forerunner of the massive offshore developments to come.
John O. Farmer III, PetE'63, remembers the friendship between his father, John O. Farmer II, MinE'33, and Hasselmann. "My dad talked about Karl's collection of geologic maps, some from Europe before World War II," says Farmer. "Karl graduated from Rolla quite a few years earlier, so their paths crossed later. They were both in the oil business, and in those days the industry was like a fraternity."
Throughout his career, Hasselmann remained a loyal Miner. He served as president of the Houston Section, president of the Miner Alumni Association and co-chair of the 1964 centennial campaign. He was awarded a professional degree in 1945 and an honorary doctorate in 1966. His generous support included a gift establishing the Karl F. Hasselmann Chair in Geological Engineering.
But the contribution that made the greatest difference was an estate gift, including the continued proceeds from mineral rights and oil and gas leases. To date, this bequest has provided the university with more than $20.4 million, including nearly $1 million used to purchase land and establish a maintenance endowment for the alumni house. ν
Karl, MinE'25, and Marjory Hasselmann