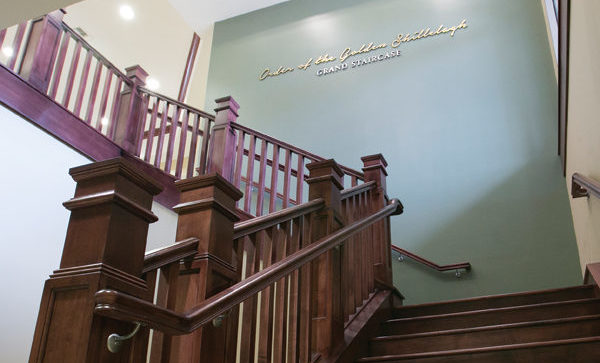 Located just past the Miner Alumni Association's Berry Welcome Center, the Order of the Golden Shillelagh Grand Staircase has 19 steps — 20 if you count the landing halfway down. Its rich, dark finish and ornate newel posts make the staircase more than a functional element. It's a showcase of the craftsmanship present throughout Hasselmann Alumni House.
Early in the facility's planning stages, university leaders challenged alumni to help raise funds to construct an alumni house. Recognizing that the house would become a home for all alumni, Rich Eimer, EE'71, a member of the Order of the Golden Shillelagh and then president-elect of the Miner Alumni Association, called on fellow OGS members to join the effort.
They met that challenge — and then some.
To get the word out, Eimer launched a letter campaign in August 2013, urging OGS members to "pick up the shillelagh" to help make Hasselmann Alumni House a reality. Thanks to the generosity of its members, OGS will forever be recognized in this home away from home for all Miners.
"The Grand Staircase stands as a testament to the ongoing commitment of the Order of the Golden Shillelagh to the university and to the Miner Alumni Association," Eimer says. "What better tribute to an organization that constantly steps up for the benefit of Missouri S&T, its students and its alumni?"