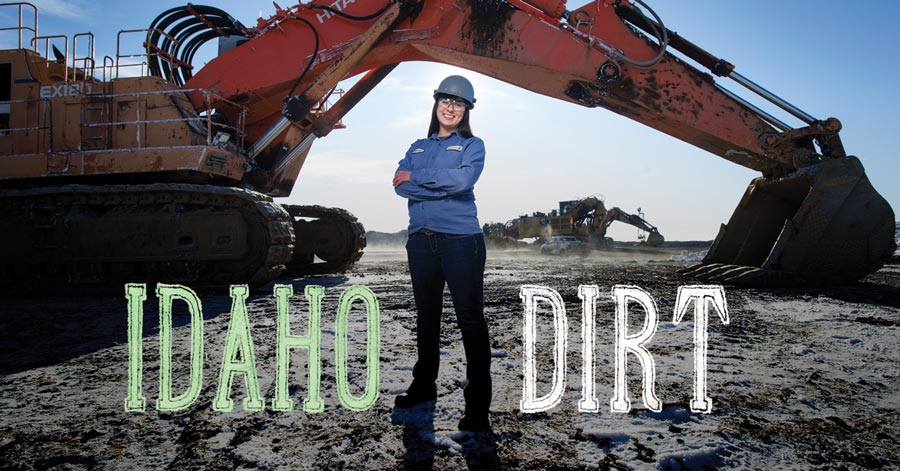 A key ingredient for an herbicide that protects crops from weeds originates from a dark, dirt-like substance mined in Idaho. Molly Prickett, EnvE'13, is responsible for making certain that substance, phosphate, is mined and processed in an environmentally safe manner.
Prickett, a native of Kearney, Mo., works as an environmental engineer for Monsanto. The St. Louis-based agricultural products company plays a major role in how food is produced — from backyard gardens, where products like RoundUp help control weeds, to large farms where the company's seed products yield bumper harvests of corn and grains, to research labs where scientists develop drought-resistant strains of plants. Though far removed from the process of producing food, Prickett nevertheless feels a bond between her work and efforts to feed a growing global population.
"The world population is going to be over 9 billion by 2050," Prickett says. "It's already a struggle to feed everyone, and since we're not gaining any land in this world, we have to be more efficient in how we produce food."
Prickett works at the only elemental phosphorus plant in the Western Hemisphere. Located near Soda Springs, Idaho, the plant and nearby phosphate mines are where an important ingredient for the herbicide RoundUp is found. At those surface mines, workers extract phosphate ore — which "looks just like potting soil," Prickett says. It is hauled 10 miles to the plant, where it is turned into phosphorus, combined with quartz and silica, and transported to a Monsanto plant in Luling, La. There, it becomes glyphosate, the main ingredient of RoundUp.
"Every bottle of RoundUp that you've ever seen in a store starts from the dirt in these mines," Prickett says.
None of this can happen, however, if the company runs afoul of state and federal environmental and safety regulations. That's where Prickett comes in. She's responsible for ensuring that the plant and mine comply with numerous environmental rules. Her job requires her to stay abreast of state and federal laws regulating storm water, groundwater, surface water and air compliance for the mines. She spends her days checking processes and procedures at the phosphate mines and at the processing plant.
"I really like the hands-on aspect of this job," she says. "I like how I am able to operate autonomously and seek ways to continuously go above and beyond compliance with our environmental permits."
Prickett also enjoys the outdoors and the surroundings of Big Sky country. "I'm only 3 or 4 hours away from Yellowstone and just a couple of hours outside of Grand Teton National Park. I love it out here."
Even though she's stationed in a remote part of the country, she stays connected with Monsanto through a program called the Local Leadership Exchange. She was one of 42 Monsanto employees chosen for the leadership development program, which brings up-and-coming employees together to "get a broader view of the company."
Through this program, Prickett has learned more about issues related to genetically modified organisms, or GMOs. In some circles, the term has gotten a bad name. But Prickett sees Monsanto's work as being crucial toward developing sustainable food supplies globally.
"A lot of our work in seed technology is about plant breeding, which is how corn came to be over many generations," she says. Corn, wheat, strawberries and many other fruits and vegetables have been "modified" over the years through selective breeding techniques. "Our efforts are about increasing crop yields with fewer inputs — less water use and less tilling, all of which saves farmers time and reduces the use of fossil fuels. Our whole point is sustainability."
Prickett learned a lot about sustainability while an environmental engineering student at S&T, where she also served as an officer on the Student Union Board and took part in Miner Challenge, the alternative spring break program. Her interest in sustainability continues as she pursues an MBA online from S&T with a certificate in sustainable business.