Collier to grads: Stand up for your principles
Pursuing a successful career while leading a balanced life can be a rewarding experience for new graduates if they stand up for their principles, Harvest Collier said during commencement ceremonies at Missouri S&T on Friday, Dec. 19, and Saturday, Dec. 20.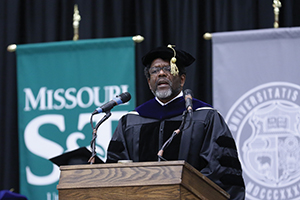 In his commencement address, the professor emeritus of chemistry and former vice provost of undergraduate studies at Missouri S&T asked the graduates to stand up for courtesy, integrity, perseverance, indomitable spirit and self-control.
"With these principles being a part of you, you will be rewarded in many ways," Collier said.
Graduates who started as freshmen first heard Collier speak about integrity during Freshman Convocation.
"Part of that message included the emphasis on a tradition of working hard, a culture of collaboration, a proper perspective toward inclusiveness and a strong emphasis on integrity and excellence," Collier said. "Arriving at this day, you have demonstrated a clear understanding of the value of integrity. Continue to stand up for integrity, and this banner will be one of the most important characterizations of your life."
During commencement, Collier was awarded the Chancellor Medal, which is given to individuals who have contributed to the well-being, growth and development of the university.